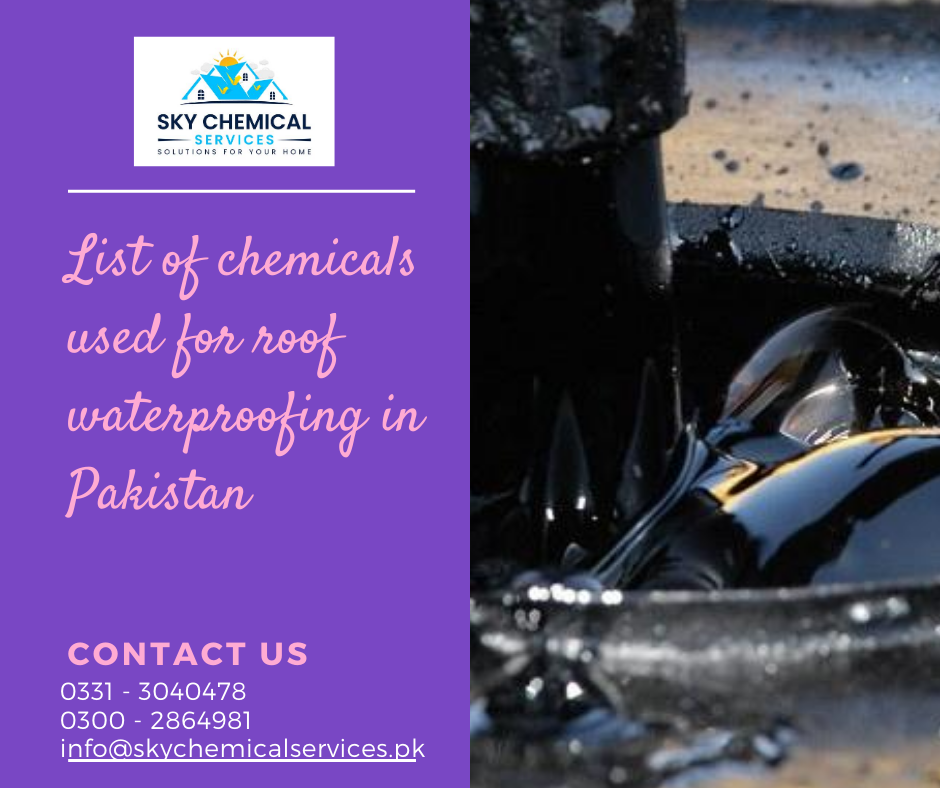 Roof waterproofing in Pakistan is something that helps to secure your roof from anything liquid, it either includes rainwater, pipe burst, or water that comes out of nowhere.
Keeping jest asides, roof waterproofing in Pakistan is only possible through the application of chemicals. To our advantages, there are multiple options available in the market which can be used as a good chemical for roof waterproofing in Pakistan.
Below are some of the popular ones that are not just easily available in the market but overall considers to be cost-effective at the same time.
Bitumen 
Bitumen chemical is a derivative of asphalt which most of us see in road carpeting. For domestic use, bitumen waterproofing is by no means dangerous because it has been level down to a certain extent that applying it over the roof becomes quite easier on both applicator and the person availing the solution.
Bitumen comes in two forms, hot bitumen, and cold bitumen. Both of these chemicals have their benefits overusing it for roof waterproofing in Pakistan. Cold bitumen is of more advanced version since it doesn't require any extra equipment as parse.  
Acrylic
A chemical which is completely transparent and is mixed with cement to produce effective result over the surface is highly used chemical for roof waterproofing in Pakistan.
Considered as one of the cost-effective solutions for roof waterproofing in Pakistan, the acrylic application is similar to applying paint, only it's done over the roof floor.
The acrylic is a good adhesive that airlocks the surface and ensures that no water gets to or from the surface because for roof leakage and seepage, the opposite of the roof is our ceiling, which shows direct consequences when a high amount of water comes in contact with the roof.  
Concrete Admixtures
There are admixtures which waterproofing properties available in the market. Although pinpointing every feature of the chemicals is not easy at all, the admixtures do come in powder form which in return easily gets mixed with the cement, that too comes in powder form.
Upon mixing it with water, the final result is a solid waterproofing paste, which in the result is applied all over the affected area.
Most of the time, the concrete admixture is not used as a coating but inside the actual roof fillings during the construction process.
Read More
What should you expect from roof waterproofing in Karachi?
Polyurethane
Speaking of popular chemicals, there is a chemical with a multipurpose facet that works in various areas. One of which is roof waterproofing in Pakistan.
Available in solid and liquid both, polyurethane is a completely synthetic material which helps as a solid layer over any surface.
Concrete on the other hand works greatly with polyurethane material and it greatly solves the issue of water-based leakage and seepage, especially during the rainy season.
Although the application of polyurethane chemical is somewhat technical and requires expertise and proper equipment to make it work.
Hydrophilia
Several forms of material are not just available at this moment but keep on coming out from the labs which are used for roof waterproofing in Pakistan's purpose.
All of these chemicals are given a specific class, known as hydrophilia, in which the waterproofing surface does has spores that are usually found in concrete, but locks water inside those spores.
These chemicals are applied over the concrete during the construction, especially when the concrete mixture is being poured over.
Hydrophobic
Worked similarly as Hydrophilia chemicals, this type of chemical is used during the reinforced concrete slab casting over your roof, although the effects are little different for Hydrophilia.
The Hydrophobic roof waterproofing in Pakistan is chemicals that completely closed off the areas or spores inside the concrete from where the chemicals might find its way to entire inside the concrete formation.
The main purpose of the roof waterproofing in Pakistan in the first place is to ensure that no water can penetrate through concrete, hence hydrophobic chemicals can achieve this without any reservation.
Read More
Can waterproofing in Pakistan protects from hailstorm?
Cement Based Polymer
Any solution which comes in polymer form and is applied through cement solution is known as Cement-based polymer.
Although Acrylic is a polymer for that matter, a chemical that comes inside this category is more popularly known as cementitious waterproofing chemicals.
Want to contact a professional waterproofing company in Pakistan?
In reality, many people are interested in making their roof completely protected but not want to get into the hurdle of doing the job on their own.
For all for them, simply contacting a specialized solution provider such as Sky Chemical Services will help our customers to provide more professional solution for roof waterproofing in Pakistan that you have got.