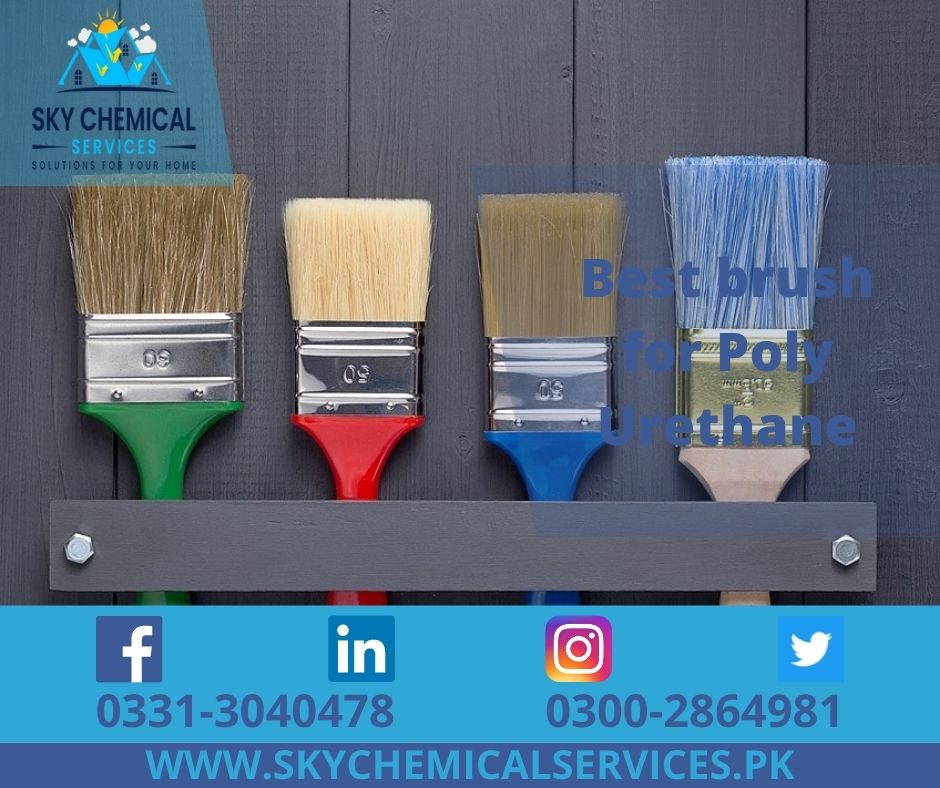 Polyurethane is a long-lasting, appealing finish that is available in oil-based, water-based, and a water-based and oil-modified composition. It is most commonly used to preserve wood products against moisture, filth, and damage. Polyurethane is applied to the material's surface with a brush, just like paint.
Depending on the application, the optimum brush for polyurethane is different. A narrow brush is best for most minor work, while a wider brush can do larger projects with the same level of quality in less time. Continue reading to discover about the aspects to consider when shopping for a brush for polyurethane application, as well as some of the best options.
List of best chemicals to secure from leakage and seepage in Karachi
20 Types of construction chemicals in Karachi 
What to Look for When Choosing the Best Polyurethane Brush
Consider the size, form, and design of the brush, as well as the type of bristles, the handle, and the ferrule, before choosing one to apply the polyurethane. To acquire the optimum coverage and finish, remember to consider the type of polyurethane and its intended usage. When selecting the ideal brush for polyurethane application, keep the following points in mind.
Natural or synthetic bristles can be used to make brushes. Some people use an angled foam material instead of bristles to spread the polyurethane. The optimum option for the project is determined by the polyurethane foundation, project size, and material shape.
Animal hair is used instead of synthetic materials to make natural bristle brushes. Boar, badger, and ox hair are all common hair kinds. The animal hair's composition makes it easier to pick up and apply smooth coatings of oil-based polyurethane. These brushes are available in a variety of sizes for usage on projects ranging from little to huge.
Brushes with synthetic bristles are the most frequent. Synthetic materials, such as nylon or polyester, are used to make the brushes, which are better for applying water-based polyurethane. Latex-based paints are also commonly used with these brushes. They come in a range of sizes, making them ideal for both little and large tasks.
Foam brushes are a cost-effective solution for smaller projects, such as applying polyurethane to a birdhouse or a spice rack. Keep in mind that instead of brushing, a foam brush wiping technique is used to apply the polyurethane.
Width
The brush size you choose should be determined by the size of the project or the brush's intended use. Common brush widths are 1-inch, 1.5-inch, 2-inch, 2.5-inch, 3-inch, 3.5-inch, and 4-inch. Brushes with a width of 2 inches or less are suitable for applying polyurethane with controlled accuracy in tight corners or at unusual angles.
For most woodworking projects, a 2- to 3-inch brush would enough. These brush widths provide adequate coverage while still allowing access to some tighter locations. A 4-inch brush, which can swiftly cover a large surface area, is ideal for larger applications like finishing a table or bed frame.
Ferrule
The ferrule is the metal piece that links the bristles to the handle of a brush. Because the bristles can flex, break, and separate from the brush if the metal isn't robust and solid, the bristles can bend, break, and detach from the brush. They can become stuck in the polyurethane can or on the project, leaving a mark in the polyurethane that you'll have to touch up later.
The ferrule, which is usually constructed of aluminum or steel, is used to support and maintain the bristles together. Because of the great durability and corrosion resistance of metals, the brush and bristles can be used multiple times before needing to be changed.
Handle Style
To maneuver, angle, and direct the brush, you must have a firm grip on the handle. Without a solid handle, applying polyurethane isn't impossible, but it's also not easy. For these reasons, don't overlook handle design while selecting the best polyurethane brush.
Bristle brushes are often made with smooth, flat wooden handles that are easy to grip and may be used for both large and small, precise strokes. A narrow wood, plastic, or metal handle protruding from the ferrule resembling a cylindrical rod or stick can be found on foam brushes. This narrow diameter is more suited to precision strokes rather than broad use.
If your premises require a coat of polyurethane, then contact Sky Chemical Services and book an appointment today.
Polyurethane Base
Depending on the intended look, polyurethane-based sealants and finishes are available in either oil-based or water-based versions. With a high-contrast, glossy appearance, oil-based polyurethane brings out the natural beauty of wood grain. For optimal results, use a natural bristle brush; however a foam brush will suffice for smaller applications.
Water-based polyurethane has a softer, more muted appearance than oil-based polyurethane, making it more unobtrusive and modest. A synthetic bristle brush is preferred for applying it; however a foam brush can be used for minor woodworking jobs.
Intended Application
Consider how and where you'll use the brush before selecting on the ideal brush for polyurethane application. For smaller work, smaller bristle brushes and foam brushes are suitable, while larger brushes are best for smooth, broad strokes. It's vital to use at least four coats of water-based polyurethane or three coats of oil-based polyurethane when applying polyurethane to a high-traffic object like a dresser or a closet door.
Two to three coats of water-based polyurethane or one to two coats of oil-based polyurethane are all that is required for decorative objects that will be on display for weeks or months without being handled. Wait 2 to 3 hours between coats, regardless of the material.
Conclusion
Handling polyurethane coatings with different types of brushes is a technical process. You need to consider its width, ferrule, brush handle and many other properties to create a clear and attractive finish to your floor. Also, the size of the brush depends on the area that you need to cater to; i.e. if you are coating the sides of a small room, you would require a brush that has low thickness compared to the one which would be used in a larger room.
If you want to know more about our services, visit (https://www.skychemicalservices.com)