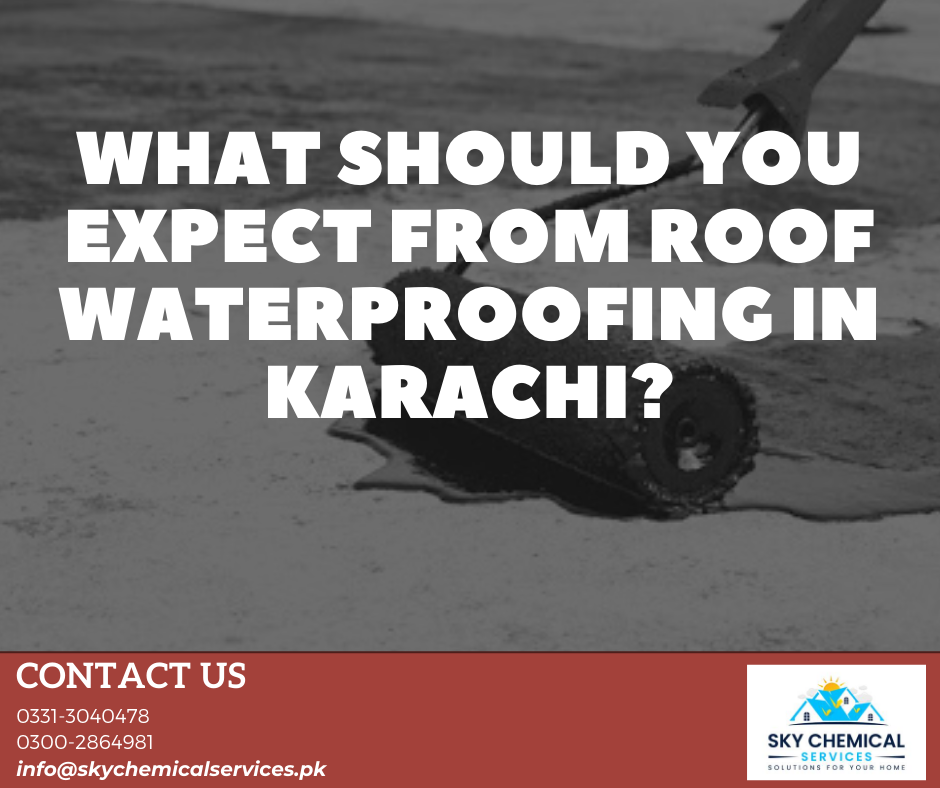 As the name roof waterproofing in Karachi clearly defines a service people avail to make the concrete leakage go away, still many people needed more detailed information about the service.
Getting information from an expert will increase the chance for people to avail of this service in the first place. Although it's important to note that many people in Karachi doesn't take this service although it says that it secures from the leakage from any type of surface for years.
Service with this much caliber must be availed, keeping the cost security into consideration. Without further adieu, let's learn about what one can expect from availing roof waterproofing in Karachi.
A Fix for your concrete leakage
It's not a mystery that properties, both large and small are made from concrete. And that too people understand it more than anything else that concrete produces a lot of leakage since its not a good medium of waterproof.
As for the roof, the ceiling leaks. To fix this, people avail of the services of roof waterproofing in Karachi. So, does it fix the leakage from our concrete roof?
One should be happy to learn that roof waterproofing in Karachi does indeed fixes the issue of leakage. This is generally the case as waterproofing chemical is made in such a way that it has the ability to adjoint with the surface with the help of adhesive and also resist water penetration because of insoluble chemical.
Read More
Can waterproofing in Pakistan protects from hailstorm?
Involves chemicals and water
It might be possible that with such a strong chemical in the mix, no water can exert its influence over the coated surface, which undermines some dangerous misconceptions. Is the roof waterproofing in Karachi safe to use, especially for domestic use?
Talking about 99% of ingredients in a waterproofing chemical, it involves nothing but chemical and water. The chemical part is 5%. The chemical itself has the function to get properly joint over the surface, like a bond.
Also, there is various form of waterproofing chemicals people avail in the first place. There's a chemical which is mixed with cement, then there's a chemical which is used as it is, like Hot bitumen chemical.
Either way, for roof waterproofing in Karachi, a chemical that is available in the market is completely safe and requires nothing but safe elements.
No smell and fumes
There's a major misconception against the concentration level of waterproofing chemicals that they produce foul smell or some sort of toxic fumes.
As the name chemicals hold quite notorious meaning to its self, the use of roof waterproofing in Karachi doesn't carry any form of toxicity because of the industry-standard precautions, which must be followed at all cost.
As the chemicals are applied for domestic use, it's quite evident enough that these chemicals are safe and secure. For most, the smell of the chemicals could come for few minutes, but thanks to the application over the external area of the roof and with the high temperature over the roof, the chemical finds quite a little time to produce such fumes in the first place.
Sometimes there are materials involved
Materials are involved in the use of roof waterproofing in Karachi. This is usually based on the efficiency of the company and how they provide service to clients with the ultimate guarantee of their work.
There is a usually different type of material involved that includes canvas cloth, sheet, membrane, and paper. All of these materials have their uses and it also increases or decreases the cost of overall roof waterproofing in Karachi.
Read More
Why waterproofing in Karachi is considered as last resort solution?
No breakage
If you are looking to apply roof waterproofing in Karachi or any place for that matter, there will be no breakage in any form or size.
The breaking of the floor or walls is a common understanding whenever we deal with anything related to repairs. As roof waterproofing in Karachi is also known to be repair work, it only involves chemicals which one of the bonus points of this solution.
Simply with the help of the chemical application, one can enjoy the effectiveness of no leakage because of the coat applied all over the affected place.
Want to apply roof waterproofing in Karachi?
Many of the readers who might still need more answers from a reputable roof waterproofing in Karachi, don't fret, because we at Sky Chemical Services will ensure to produce sounds and systematic consultation without any charge.
All you have to do is contact us at your earliest about your query and we'll be right into your disposal within a moment's notice.