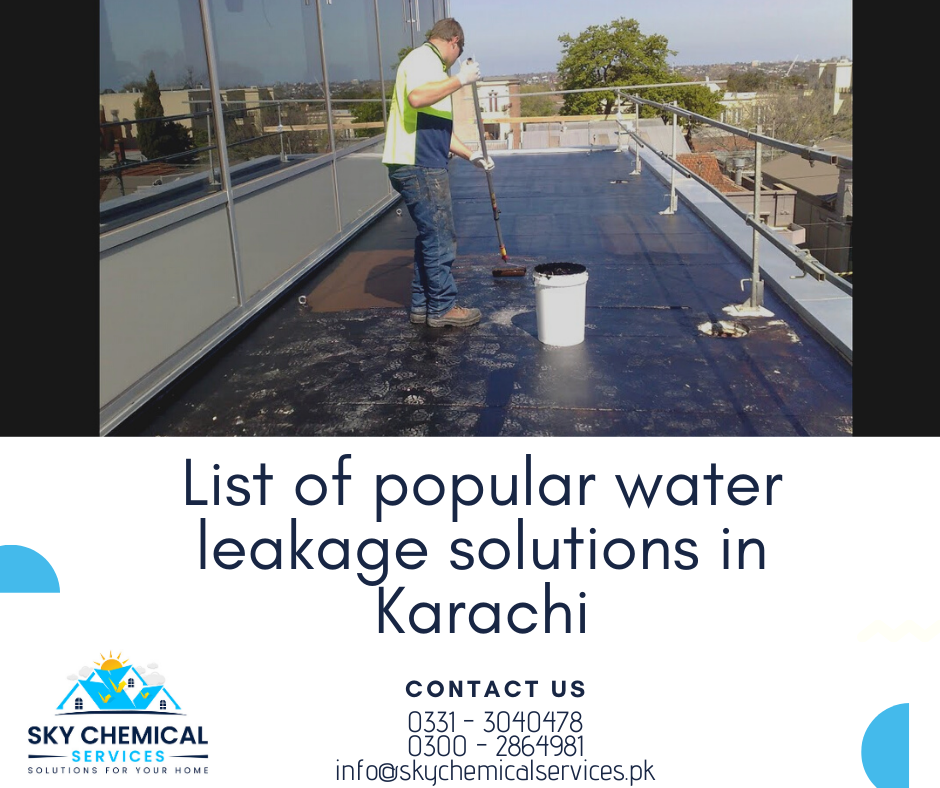 There are plenty of water leakage solutions in Karachi which aimed to fix the trouble of leakage and seepage for good.
But many people are unaware of them and how vast the field is regarding making your roof and walls water-resistant.
In this article, we aim to write about the most popular water leakage solutions in Karachi which are being used among countless people to fix the trouble of water-based damage for the better.
Plasterwork
Water leakage comes from a wall or roof and it's only possible if water finds a way to penetrate walls.
The source could be anything, such as underground water level of because of recent monsoon raining.
With the help of applying plaster all over the subjected surface, the trouble of leakage and seepage could be fixed for the better. The thing about plaster is that it's expensive and required professional masonry work to proceed with the work.
The additional raw material is also needed such as crush, fine sand, and cement to make the concrete mixture for plasterwork. Every home uses this method, which helps make walls and roofs in shape as well as provide strength.
Read More
How to distinguish the best roof leakage chemicals in Karachi from bad ones?
How to apply chemicals for water leakage solutions in Pakistan?
Do roof leakage chemicals in Pakistan comes under the construction industry?
SBR chemicals
During construction, SBR or Styrene Butadiene Rubber is a highly popular choice that makes the surface secured from water leakage.
It works as water-resistant chemicals which are applied by mixing with concrete. The best thing about using SBR chemicals for water resistivity is that they can be used even at the foundation level.
Most of the material we have over this list is applied after the construction and done, which limits its applicability in many places, such as inside the foundation of the home.
Fix the source
Most of the leakage and seepage appears over the surface because of environmental elements, like rain or sub-water level increase.
While some sources can be fixed through assistance from a plumber. It's imperative to fix the source before doing anything else.
Most of the water leakage solutions in Karachi don't help much if the source remains unfixed and producing a high amount of water.
The important thing to remember is that the trouble of leakage only exists if there's water, there's no trouble of leakage and seepage in desert places.
Water stopper
In foundation particularly, there's some extra trouble of leakage and seepage because of rising water level underground.
For this, a water leakage solution in Karachi that happens to fix this issue or at least reduces the effect of leakage over the foundation is referred to as a water stopper.
The role of the water stopper is to apply the material in between joints of concrete and rebar, which then resist water to appear over the surface and harm the sanctity of your foundation.
Read More
How to find the best roof seepage solution in Karachi?
How much time does it take to apply roof seepage solution in Pakistan?
How to calculate the cost for roof leakage treatment in Karachi?
Waterproofing chemical
One of the highly popular water leakage solutions in Karachi that help fix the issue of water-based damage is none other than waterproofing chemicals.
The thing about waterproofing chemicals is that it's applied over the surface like a coat so that water gets a hard time to penetrate the surface. Most time waterproofing chemical is applied over the roof, water tank, bathroom, and basement.
There's no restriction on using waterproofing chemicals but it is one of the quickest and efficient solutions one could find.
Bitumen membrane
Another solution that is regarded as a waterproofing chemical but provides more security is a bitumen-based solution.
Bitumen membrane is a sheet-type solution that is applied over the surface and gets attached using a heat gun.
With the membrane properly attached, it helps to airtight the surface and resist water from finding space. All water comes over the sheet and doesn't penetrate as oil-based material makes water repel for the good.
Tiles application
Tiles are also a good type of water leakage solution in Karachi which helps secure your surface from water trouble.
One example of using tiles to secure from water damage is in the bathroom and tiles help in reducing the chance of seepage forming under the floor area.
Looking to apply a chemical-based water leakage solution in Karachi?
If you are looking to find professional water leakage solutions in Karachi that offer waterproofing chemicals, simply contact Sky Chemical Services, which aims to offer a wide range of chemical-based waterproofing services, including SBR and bitumen membrane.