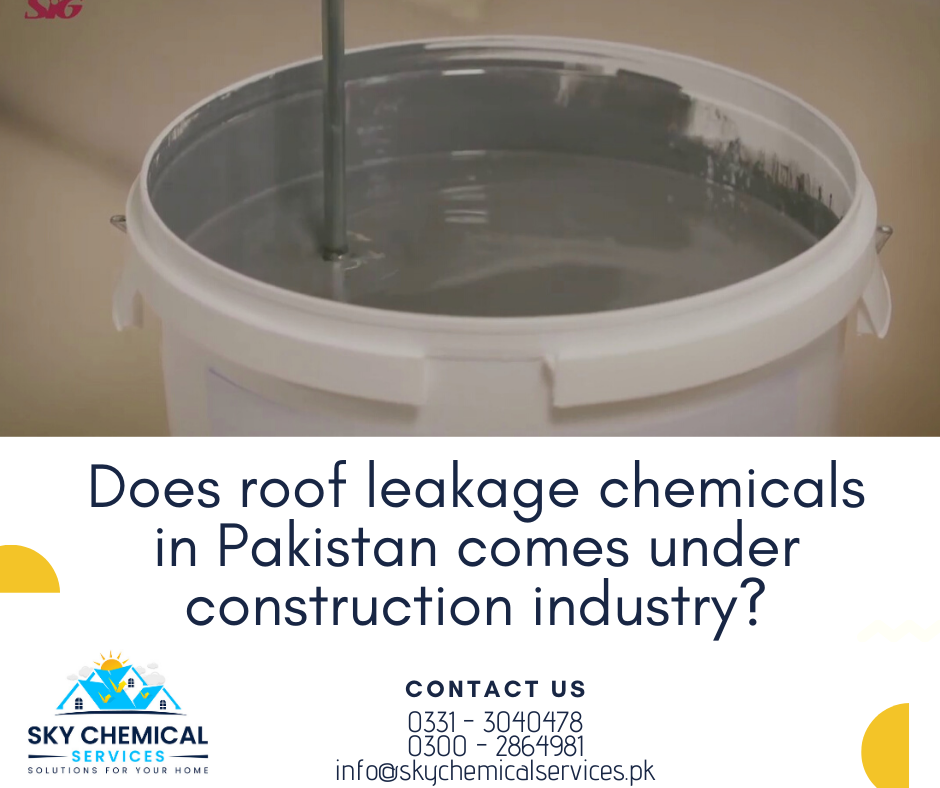 Many people believe that companies that provide roof leakage chemicals in Pakistan are considered construction firms.
But the thing about the construction industry is that they provide equipment or tools which help during the construction process, while waterproofing companies offer leakage protection chemicals in general.
Let's explore further how roof leakage chemicals in Pakistan offer their services in the construction industry and what benefit do people have through their solutions.
Works with chemicals
As the name suggests, waterproofing services in Karachi offer solutions related to chemicals only. These chemicals could be imported or locally made, and applied by local labor, but they are indeed providing a solution that's worth availing in the first place.
Talking about the chemical work, a company does present countless benefits in the construction industry which helps them to provide chemical service without breaking anything.
As far as concrete is concerned, it's quite weak when compared with water-damaged damage and should have a solution that makes water find it difficult to pass.
Read More
How to find the best roof seepage solution in Karachi?
How much time does it take to apply roof seepage solution in Pakistan?
How to calculate the cost for roof leakage treatment in Karachi?

Adhesive and admixtures
Another benefit provided through availing waterproofing services in Karachi is that they offer adhesives and admixtures for concrete.
This is done during construction and pouring concrete over floors and roof. By applying admixture chemicals such as SBR, the water leakage and seepage trouble could be fixed.
The adhesive on the other hand is used to apply over the structure to make the material fixated towards the surface. Adhesives are helpful when something is too attached in less time and more effectively.
Make concrete waterproof
Most of the chemicals applied for protection from leakage and seepage are done in concrete.
That's the main reason which made roof leakage chemicals in Pakistan considered under the construction industry.
But this doesn't restrict the company's prowess to get only under the concrete domain, but waterproofing solution helps greatly for protecting metal surface as well, such as G.I. Sheets.
Uses in homes and apartments
Waterproofing service works well with homes and apartments as the leakage and seepage trouble exists in a great amount.
It's vital to provide roof leakage chemicals in Pakistan in homes and apartments because the bathroom and other leakage pipes cause the leakage to intensify.
Construction companies must provide leakage and seepage protection.
Read More
Tools used to apply roof leakage treatment in Pakistan
How does waterproofing help fix water tank leakage seepage in Karachi?
List of damages caused by water tank leakage seepage in Pakistan
Protective coating over the surface of any material
Most of the leakage appears over the concrete surface as it works like a sponge and negatively takes on water.
Although the thing about roof leakage chemicals in Pakistan is that they can be used on any type of surface without any trouble.
People who are looking to protect their surface from the adverse effects of leakage and seepage can use a polymer-based chemical that is mixed with cement to provide extra protection.
Another reason why we can add companies that provide roof leakage chemicals in Pakistan into the construction industry is it uses cement during application work and this 2-component greatly assists in repairing small cracks without any trouble.
Painter and masonry workers
The construction industry has many skilled workers that provide their services in their respective domains.
As for waterproofing companies that expertise in roof leakage chemicals in Pakistan, the service that they offer requires assistance from painter and masonry works.
The situation for painters come into action during application of waterproofing chemical mixed with cement.
As far as masonry workers are concerned, they are needed during the repair work of large cracks over walls or roofs before applying waterproofing coating chemicals over the surface in the first place.
Inspection and contractors
During the application work, a client needs to call professionals that provide roof leakage chemicals in Pakistan over their site.
For that role, inspectors happen to survey the site and provide fixed rates for the work along with detailed steps which will be used to apply chemicals over the respected places.
Contractors, on the other hand, will be hired persons that will look after labor and other elements during the work, so that client doesn't have to look out for.
Want to find more about the company that provides roof leakage chemicals in Pakistan?
Understandably, professional companies that offer roof leakage chemicals in Pakistan come under the construction industry.
This means people who are connecting with construction could get their assistance in water leakage protection. If you are looking for a company that handles such a service, simply contact Sky Chemical Services which offers top-rated waterproofing, heat proofing, and heat insulation services.