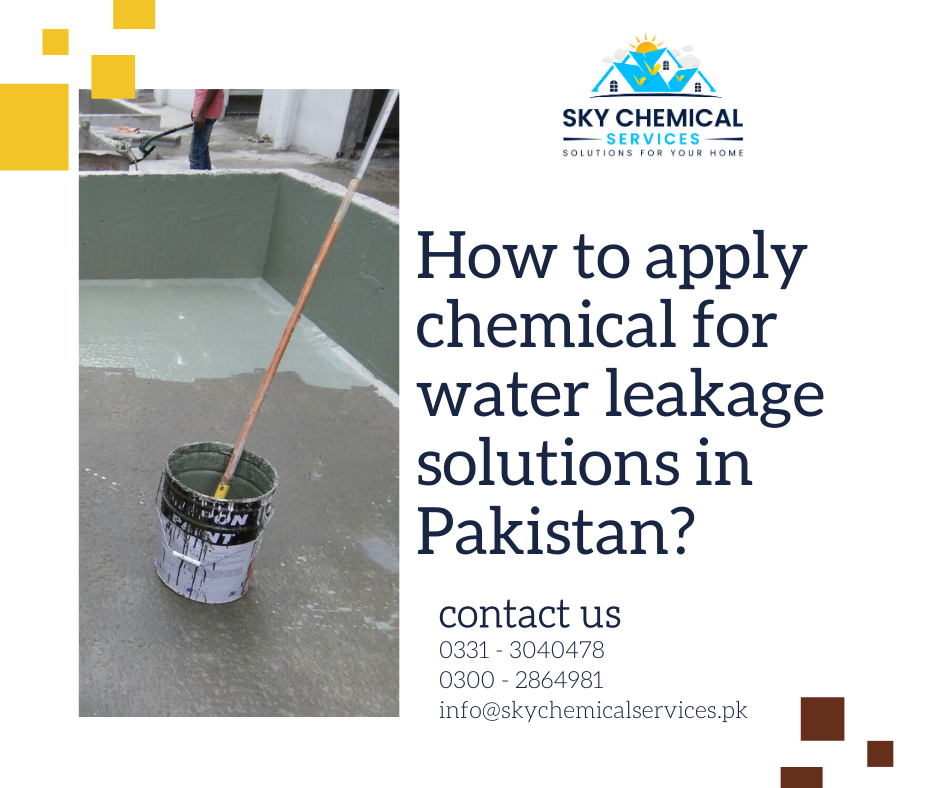 Anything is done with following proper steps incorrect manner, same can be told for applying chemicals for water leakage solutions in Pakistan.
For the same reason, we have created a simple guide that explains how to apply chemicals over the affected surface which is facing terrible danger through water-based leakage and seepage.
In the order guide, we try to mention different types of water leakage solutions in Pakistan and how they help stop leakage and seepage for the better.
Polymer-based chemical
There are different types of chemical-based water leakage solutions in Pakistan that help to secure your surface from water-based damage.
One such solution is regarded as a polymer-based chemical. Commonly, the polymer chemicals need cement and work as 2-component chemicals.
Once the mixture is completed, the product is applied using the cement added to the surface.
As polymer has the strength of plastic-based protection which greatly protects from water-based damage.
Read More
How to determine the best companies for roof heat proofing services in Karachi?
How bathroom leakage repair in Pakistan improves your house beautification?
How to hire experts for bathroom leakage repair in Karachi?
Elastomer based chemical
Talking about the polymer chemical used as water leakage solutions in Pakistan, the stronger version of polymer is Elastomeric chemicals.
The process of applying the elastomeric-based chemical is applied through the same method of polymer-based, including the mixing of cement with the chemical.
One difference between polymer and elastomer-based is the quality of the product, as elastomer is more secure and lives up for more than 10 years without any trouble.
Use of cement
We would like to explain more details about the use of cement for polymer or elastomer-based chemicals.
Cement is added as a certain level of ratio, which means one kilogram of polymer is mixed with 3 kg of cement.
The application of material is done with the help of a paintbrush and is coated over the surface. To make it a more effective solution, the coating is done in multiple manners so that protection is double down.
Oil-based chemicals
Another form of chemicals used for protecting water-based damages for water leakage solutions in Pakistan is oil-based.
The oil-based chemicals are different from polymer-based chemicals in many aspects as it's applied over the surface with two ways.
Cold bitumen is applied using a paintbrush without mixing any cement. The other form of oil-based solution is hot bitumen when is heated and applied using a specialized metal wiper.
One of the benefits of using oil-based chemicals is it has a longer year of protection, more than 10 years, and is used in places that need long life over their protection as well.
Membrane sheets
Talking about oil-based chemicals, membrane sheet is also used as water leakage solutions in Pakistan.
The membrane is more popular for large areas such as roofs for protecting for water-based damage.
The thing about membrane sheets is that they come in roll sheets and is applied using a heatgun. Once applied it also works as repairing small to medium cracks caused by water-based damages.
Other ways to fix water leakage
Besides applying chemical-based water leakage solutions in Pakistan, other solutions are used to protect from water-based leakage and seepage.
In our article, we have tried to explain those as well because at the end of the day, what people need is protection from water damage for several years.
Read More
How to control leakage and seepage in Pakistan using chemicals?
List of best chemicals to secure from leakage and seepage in Karachi
How does expansion joint treatment in Pakistan secure from pests?
Plaster
The area which is facing harsh damages of water-based damage, it bound to get seepage and ruined the effectiveness of your walls or roof.
Many people simply avail the service of masonry to apply plaster over the surface. The role of plaster here is to make the wall revitalized its lost glory and stop water damage for the better.
Find the source and stop it
Talking about solutions to stop water-based damages, finding the source, and stop the water leakage from there.
This work requires breakage over the structure because wall seepage demands to find a source and from where walls are getting wet.
Stopping the source will stop water damage for the better like none other solution you could find but with breakage work under consideration its' quite costly as well as messy work.
Want to try out water leakage solutions in Pakistan? 
Many companies are offering water leakage solutions in Pakistan. If you are looking for a professional one, simply contact Sky Chemical Services, which offers leakage and seepage protection as well as heatproofing chemicals.