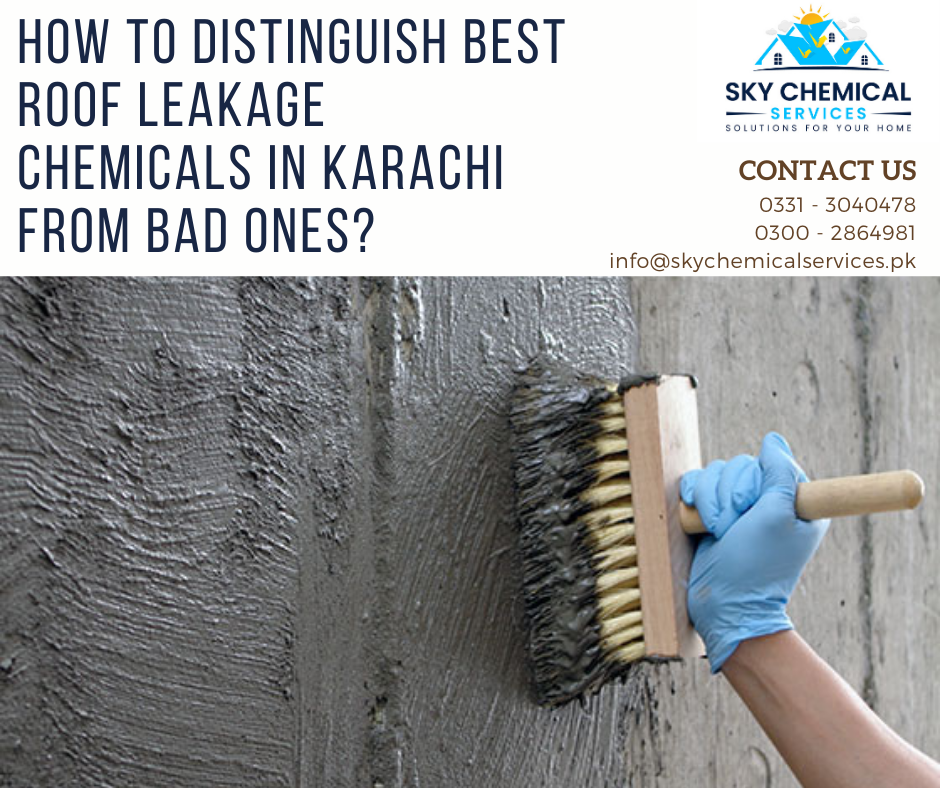 Companies that offer roof leakage chemicals in Karachi will claim to provide the best quality waterproofing chemicals.
But as a customer, there should be some way to go with the word of the company. To support this claim, we will present some of the features that help people to distinguish the best waterproofing chemicals  from the bad ones.
As the chemical application is an added cost, the chemical must be of the best quality at least.
Type of chemical
As you might have guessed, there are different chemicals available to make your troubles of leakage and seepage go away.
Some of the chemicals require cement to mix, they are known as 2-component chemicals, while others are oil-based chemicals.
Indeed one can distinguish good waterproofing chemicals  from the bad ones by simply learning about the price of the products, as higher means it's quality based.
Talking about the polymer-based chemicals available in the market, cement is mixed which makes it cheaper as well as effective to stop leakage and seepage trouble for the better.
Read More
How to apply chemicals for water leakage solutions in Pakistan?
Do roof leakage chemicals in Pakistan comes under the construction industry?
How to find the best roof seepage solution in Karachi?
Color
Color doesn't play a vital role in stopping leakage and seepage from your surface. Although we would like to be as thorough as possible in explaining the best roof leakage chemicals in Karachi from the worst ones.
Waterproofing chemicals which are regarded as polymer-based are usually transparent. They usually come in powder form but it's mixed with a special liquid which makes it viscous.
As the liquid is added into the cement directly and the color changed to greyish black. On the other hand, oil-based waterproofing chemical comes in back color.
Hence it could be regarded as most of the roof leakage chemicals in Karachi comes in dark color because of material but there's no particular for color to play in holding water leakage from the surface.
Viscosity
A chemical role in construction is to make concrete water-resistant, and this is possible when small sponge-like openings are filled by using roof leakage chemicals in Karachi.
When a chemical is viscous, it means much water can be added before it loses the element of viscosity completely.
Although if liquid comes in the light mixture, more material is needed to mix with cement and water thus it increases the cost. Hence checking the viscosity is an important feature to look out for better roof leakage chemicals in Karachi.
Contact professional company
Now how a customer can get their hands on the best deal regarding roof leakage chemicals in Karachi, 's simple, contact a professional company.
Although it's also worthy to mention that a professional company can handle work on their own including procurement of chemicals and application work.
Although as a client, it's your role into checking what quality of the product is being provided by the company by understanding the below facets.
Test after application
Once the company has applied the roof leakage chemicals in Karachi, it's the right of the client to demand a live test instantly after the chemical is dried up.
The client will provide the testing work by using a water hose and making your roof full of water as it happens during the rainy season.
It will help the customer understand that the work provided by the company is well-received or it started to leak instantly.
Read More
How much time does it take to apply roof seepage solution in Pakistan?
How to calculate the cost for roof leakage treatment in Karachi?
Tools used to apply roof leakage treatment in Pakistan
Test out Warranty
Because most people will not believe anything a company has to say about how effective are chemicals in resisting water leakage and seepage over the surface, the company provides a warranty of their product and service.
The minimum amount of warranty provided is around 2 years, although depending on the product it can go up to 10 years.
A warranty like any other product means if the intended result is not observed, the company will reapply the chemical again. This is something people admire from professional companies only.
Looking to hire a professional for roof leakage chemicals in Karachi?
The role of roof leakage chemicals in Karachi is to protect your surface, such as roof and walls from leakage trouble. Since everything is about chemicals, the customer needs to give extra attention to it.
If you are looking for professionals only that handle roof leakage chemicals in Karachi, simply contact Sky Chemical Services, which will offer the best service regarding waterproofing and heat proofing solution.