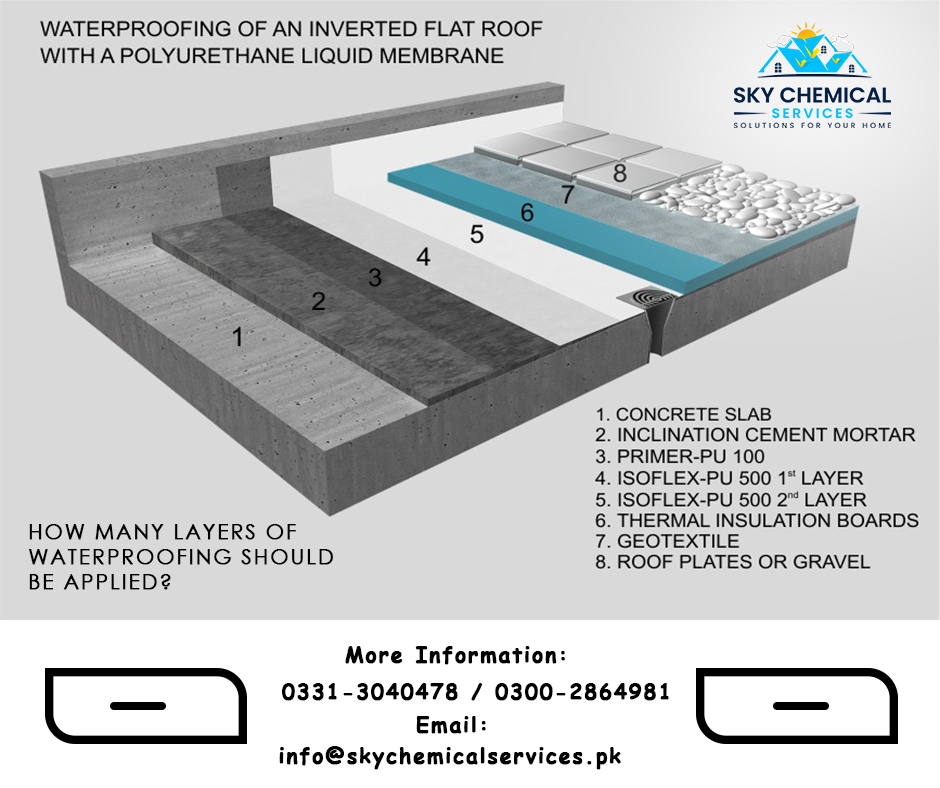 Layering the surface is an intricate task for waterproofing experts. It requires a thorough understanding of the climatic conditions, surface moisture levels, chemical mix ratios, and other aspects. In addition, the cost factor is also important. There are certain prerequisites for applying waterproofing membranes and solutions:
Low air temperatures (below 5oC) are not suitable for waterproofing membranes.
Don't place membranes on damp surfaces.
Waterproofing layer should be installed by recognized experts.
Waterproofing layer should be installed in accordance with the manufacturer's recommendations.
Companies need to cope with the standards of the waterproofing industry: Proper PPEs, adequate equipment, and timing schedules should be provided to the workers. Moreover, work quality and performance should be monitored periodically.
The Layering Process
The application of waterproofing layers depend on several factors, such as type of waterproofing material, surface adhesion, and the level of thickness required. In general, most waterproofing systems require a minimum of two layers for added protection; the 'backup layer' reinforces the surface and restricts outside elements against penetration.
Some systems require additional layers depending on the specific requirements of the project. For example, if the surface is porous, two to three coats are necessary. It is important to follow the manufacturer's recommendations throughout the process, commencing from surface preparation to curing.
Read More
Why Does a Warehouse Require Roof Water and Heat Proofing?
Which Waterproofing Type is Best for Roofs?
How Do Waterproofing Experts Help in Basement Waterproofing in Karachi?
Types of Waterproofing Membranes
The application of membranes (liquid and sheet) help to protect the structural integrity of a building or bungalow by sealing potential leak-prone areas like walls and roofs. And, with a proper drainage system, its performance improves drastically. Contact Sky Chemical Services for a protective and long-term covering.
Liquid Coatings (Acrylic, Bituminous, and Cementitious)
Membrane Coatings (Polymer-Modified Bituminous, EPDM, Polyurethane, etc.)
Quantity of Coats Applied
Typically, two coats of acrylic waterproofing are recommended for optimal protection. The first coat acts as a primer and the second coat is the actual waterproofing layer. However, additional coats may be required depending on surface porosity and exposure to torrid or damp weather conditions.
For bituminous waterproofing, typically two or three layers are recommended, depending on the application and thickness of the material. The process starts with the primer coat, followed by a waterproofing layer. After the surface is cured, a protective layer is applied.
Two coats are recommended for cementitious waterproofing, with each layer applied at a thickness of 1 to 2 mm. The first coat works as the bonding agent, while the second one is the waterproofing layer. And, a third layer can be applied if a supplementary coat is required.
EPDM coating is a synthetic rubber roofing membrane applied at a thickness of 1.5 to 2mm; a single layer is recommended for most tasks. EPDM offers excellent waterproofing protection for decks, roofs, and other surfaces. In specific cases, an additional layer is applied for added protection.
For polyurethane coating, two layers are applied: The first one is the primer coat while the second one is the waterproofing layer. An additional coat can be applied too, if the surface requires.
Read More
Concrete Foundation Waterproofing: A Complete Guide
Bathroom Waterproofing: What Do You Need to Know
How to Apply Chemicals for Water Leakage Solutions in Pakistan?
Importance of Waterproofing Coats
Waterproofing coats are important for several reasons:
Protection against water damage: The primary function of waterproofing coats is to prevent water from penetrating into the substrate.
Extended lifespan of structures: Waterproofing coats can help extend the lifespan of structures such as roofs, decks, and foundations.
Improved air quality: The growth of mold and mildew in homes can affect indoor air quality and increase health risks: Membrane coating can help overcome the issue.
Conclusion
Before applying the waterproofing coats, factors, such as environmental conditions, surface porosity, and humidity levels are delved upon by experts. Thereafter, the process commences. The quantity of coats are decided between the homeowner and the company after mutual consultation. Normally, two to three coats are applied, irrespective of the membrane or liquid being used.
If you want to enjoy a moisture-free environment, contact Sky Chemical Services today!