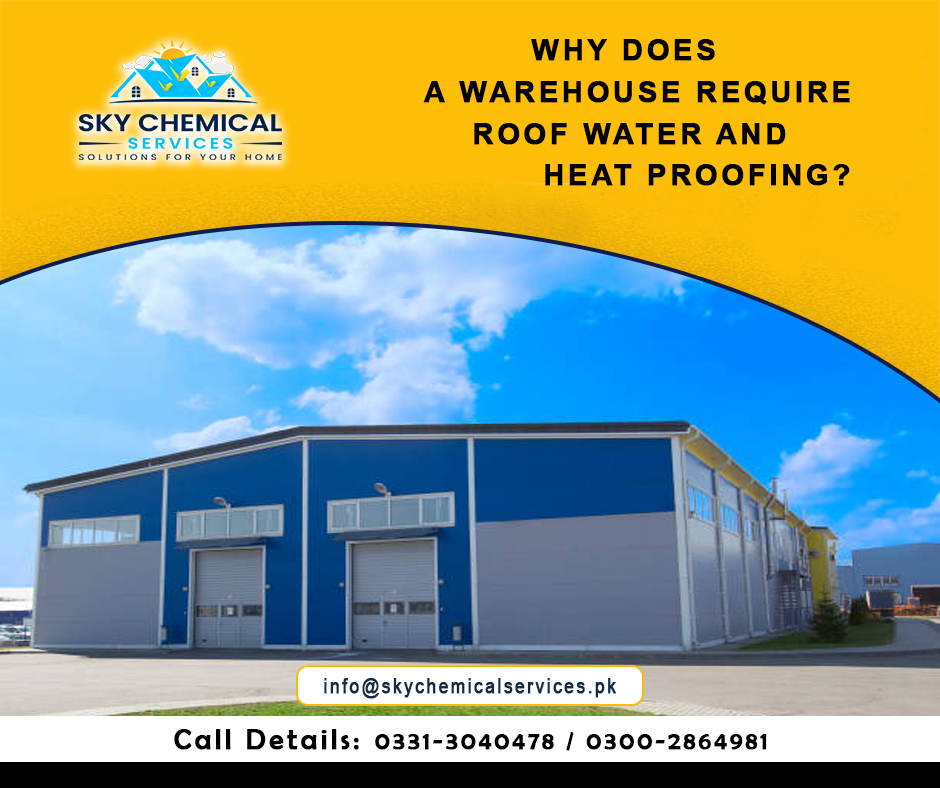 Does your commercial warehouse need an effective coating of heat and water proofing? If yes, then contact Sky Chemical Services today!
Covering the rooftop to protect essential commodities is a must for every warehouse owner. It helps prevent accidents or injuries caused by water patches, thermal shocks, or slippery surfaces. Moreover, the IR and UV rays of the Sun are blocked to ensure more safety. It is a simpler option to add more life to the roof while avoiding a complete substitute.
Following are some benefits of roof heat and water proofing for warehouses.
Reduce Surface & Interior Temperature
Liquid chemical coatings reflect harmful radiations from the roof: These coatings reflect 90% of the Sun's heat, resulting in a much lower internal temperature. In addition, the surface heat is diminished up to 12-15 degrees Celsius, depending on the properties of the mixture or membranes. Crevices and patches can develop if the surface grows weak or corroded.
Extends the Roof's Useful Life
A waterproof coating creates a strong barrier between the elements and the roof, reducing wear, decay, and leaks considerably. The UV rays are also blocked in the process. Besides quality, expenditures are also maintained together with the appearance.
Read More
https://skychemicalservices.pk/whats-the-right-time-to-apply-corrugated-sheet-waterproofing-in-pakistan/
https://skychemicalservices.pk/difference-between-the-concrete-roof-and-corrugated-sheet-waterproofing-in-karachi/
https://skychemicalservices.pk/why-industries-require-metal-sheet-waterproofing-in-pakistan/
Cost-effective
Whenever a task is taken up by our experts, their prime motive is to conserve costs for the customer. Compared to a full roof replacement, roof repair can save amounts between 50 to 70%. Heat proofing is a single-time expense compared to air conditioners and room coolers that function continuously for hours on end.
Sky Chemical Services specializes in roof heat and water proofing in Karachi, Pakistan. Improve the comfort of your warehouses by hiring our professionals today!
Types of Warehouse Roof Coatings
A large-sized store room is an important place for any business, a place where extra essentials are stored for further use. To conserve it from external threats, such as rain or hail, you can call in experts to cover the exterior with heat and water-proof paint.
Elastomeric Paint
Belonging to the category of latex paints, elastomeric coatings are applied on different roofing materials like metal, concrete, etc. Since the late 1950s, it is labeled as 'one of the leading coatings for different types of materials'. This paint restricts moisture to adhere on different surfaces. Furthermore, the coating reduces the temperature in the structure too.
Compared to normal paint, elastomeric coatings possess more elasticity and elongation. This coating can endure wind speeds up to 100mph and bond existing cracks on surfaces. Furthermore, it is mildew and mold-resistant.
Liquid-Applied Membranes
These coatings cure to develop UV-resistant and waterproof membrane. Liquid roofing is ideal for a variety of materials, such as:
Metal
Built-up roofs (BUR)
EPDM
PVC
Spray Polyurethane Foam
Liquid-applied layers are thicker than normal paint. They are applied through tank spreaders, hydraulic airless sprayers or nap rollers.
Read More
https://skychemicalservices.pk/why-its-necessary-to-avail-of-steel-sheet-waterproofing-in-karachi/
https://skychemicalservices.pk/can-waterproofing-in-pakistan-protects-from-hailstorm/
https://skychemicalservices.pk/why-waterproofing-in-karachi-is-considered-as-last-resort-solution/
Warehousing Roofs
Taking care of a warehouse roof is essential. Statistically, 30% of a building's structure (roofing) protects the assets from damage. A newly installed roof offers various advantages, such as lower operating costs, increased energy efficiency, and better appearance.
Following are some of the warehouse roof types:
Metal Roofing
Metal is a long-lasting material that can endure extreme weather conditions and environmental factors, such as erosion and rusting. Steel is the most common type that offers high reflectivity and corrosion resistance. It can be coated with zinc or aluminum for better performance. Water and heat proof coating is also applicable.
Single Ply Membrane Systems
If you want a low maintenance and durable roof for your warehouse, single-ply membrane is the best choice. These membranes are made from sheets of compounded materials: Thermosets and thermoplastics. Single ply membranes are popular among roofing contractors.
Asphalt Shingles
Asphalt shingles is one of the most flexible and affordable roofing systems. It is customizable and widely available in Pakistan. There are three main types of shingles:
Dimensional shingles
Strip shingles
Premium shingles
If your area undergoes bad weather conditions, asphalt shingles are not a good option.
Conclusion
Conserving inventory is essential for a company's growth and development. That's why business owners keep a strict check on maintenance and safety issues. Covering the rooftop of a warehouse is one of them. Roofing standards are maintained according to the climatic conditions present in a city. If the area faces torrential rains, waterproofing is a must. Likewise, hot temperatures call for a heat-proof roof.
If you want to keep a moisture-free environment in the warehouse, call Sky Chemical Services today!