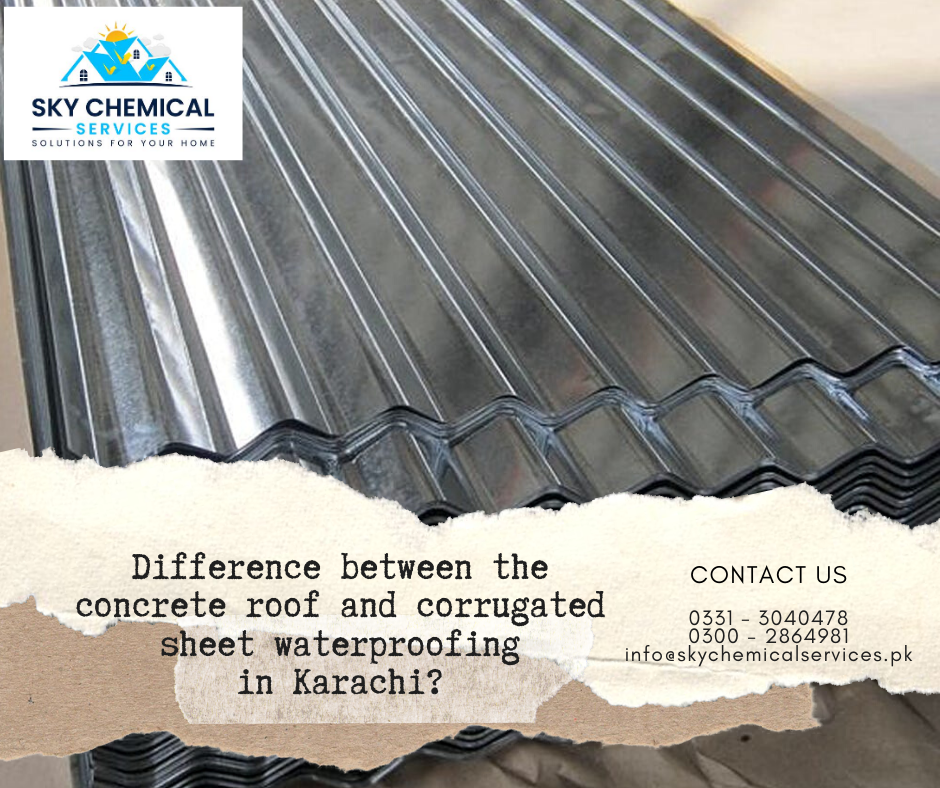 A standard debate has been surfaced on various facets of our society who are willing to avail of the corrugated sheet waterproofing in Karachi.
The debate involves the difference between concrete roof and corrugated sheet waterproofing in Karachi and how does it differ in terms of application and cost?
Below we have provided a detailed overview of the application of the corrugated sheet waterproofing in Karachi and which points are out of the usual when compared to the metal sheet application in general.
Corrugated sheet waterproofing in Karachi
For our readers to understand what is metal sheet treatment in the first place? It's simply a chemical treatment we apply over a metal sheet to ensure that no water-based damage ever comes into the account ever again.
The application involves a waterproof chemical whose main purpose is to make the surface where the chemical is applied, to be resistant to anything liquid, that in most cases is water.
But furthermore, there are companies responsible to apply metal sheet treatment professionally and ensure that customer remains on the safe side that a company takes complete responsibility of the application which is one of the salient features of steel sheet waterproofing application.
Read More
Why industries require metal sheet waterproofing in Pakistan?
Why it's necessary to avail of steel sheet waterproofing in Karachi?
What's the right time to avail basement waterproofing in Pakistan?
Application of chemical-based treatment
Talking about the biggest difference used for corrugated sheet waterproofing in Karachi is that for applying the necessary treatment, it should always stick to chemical-based treatment.
The waterproofing in Pakistan is bigger than only chemicals. It has other solutions to its family such as sheet based and membrane-based, also we can apply hot bitumen over the roof, which is rather a viscous solution and needed proper equipment to apply the chemical in the first place.
But when dealing with metal sheet treatment, the application should only be done with chemicals that can be handled with nothing but a brush or a broom.
Labor needs to be careful on application
When we apply corrugated sheet waterproofing in Karachi, the base over which labor and professional are standing is pretty weak, to say the least.
The main intension of a corrugated sheet is to ensure that as a roofing material, we have the utmost protection from the water-based damage in the form of rain, and protection from direct sunlight during the day.
Labor can get protected only when a few labor force needs had to be assigned over a singular project. This means that time is always on the essence and all those chemicals which take more labor force have to be neglected.
Larger areas
As compared to concrete roofing, metal sheet treatment comprises of a larger area. The larger area is because of two factors. One when these corrugated sheets are being used in an industrial area, while secondary when the application is needed for commercial areas.
One of the best things about using a corrugated sheet is that the roofing material can be used to a large area that is nothing but an Adhoc development.
But since there's no leakage and seepage security for these makeshift constructions, the corrugated sheet waterproofing in Karachi is somewhat considered a primary solution to protect what's inside the construction in the first place.
Read More
How much time is required for basement waterproofing in Karachi?
What causes basement flooding and how foundation waterproofing in Pakistan fixes it?
Why does foundation waterproofing in Karachi have no substitute?
Several coating possible
For metal sheet treatment, the coating comprises of several coating, which ensures the double down mechanism so that leakage and seepage are clammed down as much as possible.
On another element, the application of multiple coating makes many benefits for a metallic roofing sheet, such as secure with small cracks, protection of rust, and a somewhat reduction in vibration and noise.
Concrete roof waterproofing in Karachi
Talking about other forms of the roof which are commonly known as RCC roof and its waterproofing needs are somewhat similar with corrugated sheet waterproofing in Karachi, but with a little twist.
For starters, the RCC roof is stronger which makes less danger during the application. It can withstand more weight over it and hence more people can work to ensure less danger while working is in progress.
About the types of chemical choice, there is the option of sheet-based waterproofing solutions such as membrane waterproofing solution.
Talking about issues, RCC or concrete roof is more or less more prone to seepage and leakage, especially during a heavy downpour.
The rainwater in most cases retains over the roof, and thus the issue of seepage emerges out of nowhere. Meaning the RCC has the back draw during the monsoon season in most cases.  
Looking to avail professional help corrugated sheet waterproofing in Karachi?
Some companies ensure that people are hooked up with professional corrugated sheet waterproofing in Karachi so that they never have to experience the water-based damages over their metallic roofs ever again.
For people who are open to some next-gen solution, simply go ahead and contact Sky Chemical Services for your corrugated sheet waterproofing in Karachi needs and other chemical-based solutions.