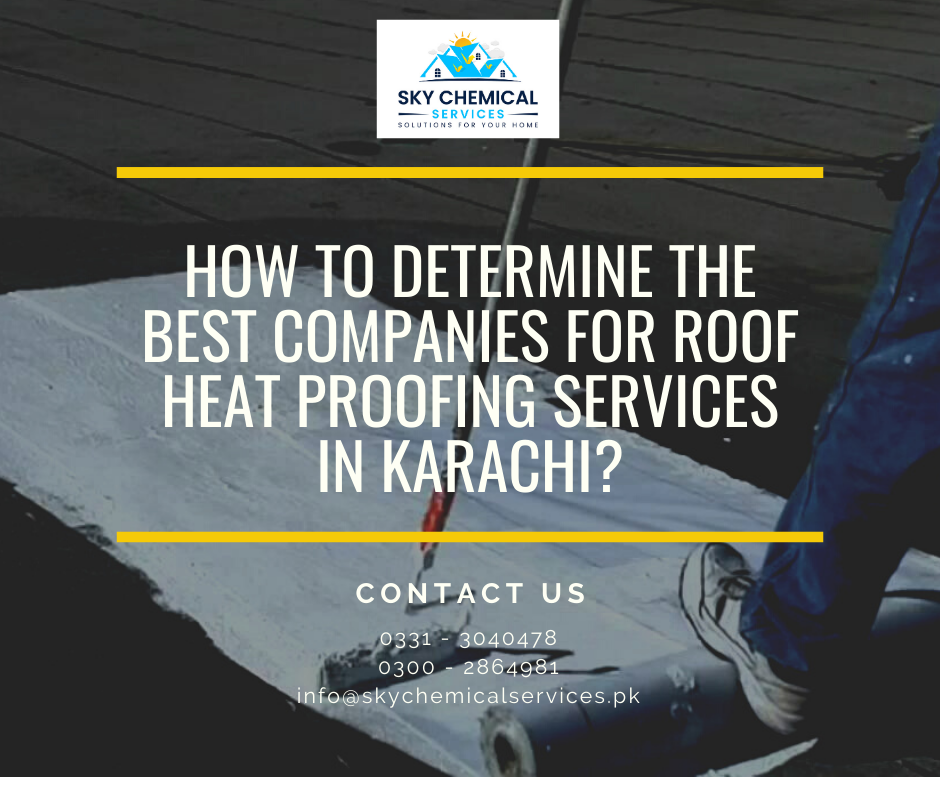 Hiring a professional company to do our bidding for roof heat proofing services in Karachi is the right move one can make. But the next big challenge is how to find the right candidate for the job?
Here in this blog, we will provide you some basic steps that you as a customer can follow to hire nothing but only one of the best companies for roof heat proofing services in Karachi.
Ask for multiple products options
A good company has many options lined up for you especially in the domain of heat proofing and insulation. The main purpose of heat proofing to exist is because of extraordinary heat during the summer season and its right protection which is both instant and light on the wallet.
A customer should get their information about different types of products used in the domain of roof heat proofing services in Karachi from a reputable company. The major benefit of asking for different products is to get a sense of information about the work along with product costing as per their budget.
Read More
How bathroom leakage repair in Pakistan improves your house beautification?
How to hire experts for bathroom leakage repair in Karachi?
How to control leakage and seepage in Pakistan using chemicals?
Free consultation
Usually, most of the heat proofing and insulation provide free estimation and consultation for their clients. Hence, it's quite important to get this feature up and running at all times.
By calling the company for a quick consultation on the site will not just greatly help you to understand the steps involved during the work, but these companies can also provide much-needed information about the best practices to help reduce the high temperature from your roof.
Provide necessary literature
Based on the requirements, a professional roof heat proofing service in Karachi always provide necessary literature about the products.
Talking about the literature, there are technical documents which are known as technical data sheets about chemicals.
Usually, it is asked by industry specialists and customers belonging to a professional firm. Either way, a well-documented company for roof heat proofing services in Karachi is always referred to when compared to an amateur company for chemical-based roof heat proofing treatment.
Professionally written quotation
The quotation is an important element for businesses. Although quotation is nothing but a document that has a price for the project. The client can better understand the costing, time, and other elements through a written document or in other words, a quotation.
It's the job of a professional company that provides heat proofing and insulation to have their quotation in order, well written and professional. A quotation with the company logo, details, and contact information along with a proper breakdown of the entire work is always preferred.
Read More
How does expansion joint treatment in Pakistan secure from pests?
How expansion joint treatment in Karachi saves money?
Benefits of tiles grouting in bathroom leakage treatment in Pakistan
See related past work
Customers might not always believe all the self-praise most of the businesses are engaged in selling themselves. If things come to the clients to check the existing work at the site, a customer should have a solution that provides just that.
This is the real factor which separates a professional roof heat proofing services in Karachi from an amateur one. Because at the end of the day, everyone needs to have a solution which guarantees security from high temperature.
Ask for a guarantee of work
Talking about the guarantee work, it is expected from a professional roof heat proofing services in Karachi to provide some sort of guarantee of the work.
The guarantee comes in the form of a warranty of the product as well as service. The warranty composes for several years, which means that if the intended solution is not into account, then a solution is applied in order.
Explain steps involved in roof heat proofing
It's the job of a professional roof heat proofing service in Karachi to inform what will happen once labor and chemicals come into the site.
There are steps involved that are followed to ensure that high temperature is controlled over the roof. The company professional will provide details both initially and promptly if the work is more than a day.
Looking to try out a professional roof heat proofing services in Karachi?
There are times when people are only interested to get the roof heat proofing services in Karachi from a professional company and nothing else.
If that's the case, simply contact Sky Chemical Services and we'll make sure to provide all the necessary work before and after the solution while keeping customer satisfaction to the highest priority.