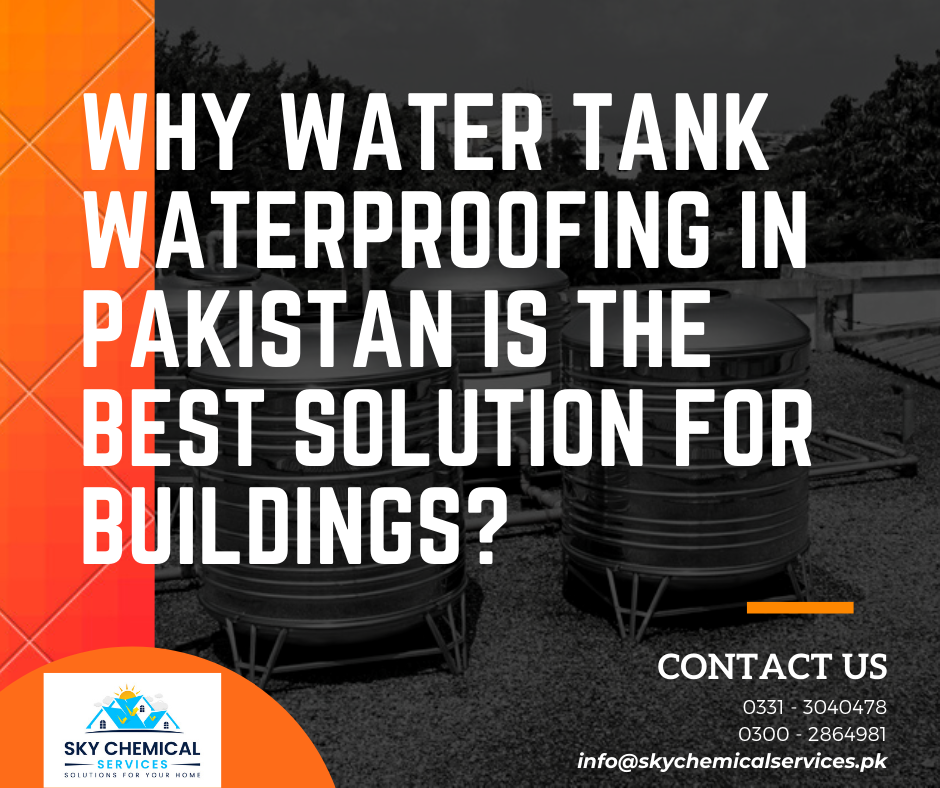 Have you ever considered water tank waterproofing in Pakistan for buildings? It's the top-class solution if you are looking to ensure safety as well as beautification of your entire building.
This is most accurate for a residential apartment since the overhead water tank leaks like crazy and it's evident to apply the proper solution to fix it for the better.
Below are some of the benefits to avail water tank waterproofing in Pakistan for your buildings.
Helps in leakage protection
Firstly, as the making course of waterproofing chemical is to protect from the water-based damage, such as leakage and seepage.
The leakage through the overhead water tank is quite dangerous for the long run because when water comes down from the top, it damages every house on its way.
For the top order house, the damage is usually greater in magnitude because the overhead water tank is directly connected with top floor houses when furthermore affect their rooms or topmost areas of your residential buildings.
Read More
How to identify good companies for water tank waterproofing in Karachi?
What's the right time to apply corrugated sheet waterproofing in Pakistan?
Difference between the concrete roof and corrugated sheet waterproofing in Karachi?
Security for water tank
Your water tank is damaged needs to be repaired. Most of the overhead water tanks are made from concrete material and it can be repaired through applying water tank waterproofing in Pakistan, or with the help of masonry work.
But either way, concrete is not a good material to store water, without any waterproofing application applied at the interior of the structure.
Works well for Overhead water tank
There are usually two types of water tanks based on their placements. Overhead water tank and underground water tank. Although the solution for water tank waterproofing in Pakistan is possible for both structures, the chemical application works quite well for the overhead water tank.
The overhead water tank can display a true sense of damage because of the leakage element. As for buildings, every house gets affected to an extent that the maximum amount of water comes down 24/7, which is not just devastating for the entire building structure but also for your overhead water tank.
Chance to clean the water tank through the same service
There are many instances when customers are looking for a water tank cleaning service in Pakistan. The cleaning element is generally important especially when water that's coming out from the tap either smells bad or changes in color.
Not only that, it's important to avail of the water tank cleaning service from time to time. But if you are looking for not just overhead water tank cleaning service, but also a chemical-based solution which ultimately increases the water leakage resistivity for your water tank, you might need to call water tank waterproofing in Pakistan.
Read More
What causes basement flooding and how foundation waterproofing in Pakistan fixes it?
How much time is required for basement waterproofing in Karachi?
Why does foundation waterproofing in Karachi have no substitute?
Increases the life of the structure
No one wants to spend money over the repair cost because its certainly additional cost to say the least. With the help of water tank waterproofing in Pakistan, we can simply increase the life of your water tank structure, prompting you to spend less money on renovation.
There are other follow up benefits if the life of your water tank structure increases. One of the benefits is a sense of relaxation over any danger of unprecedented leakage from the water tank for several years.
Secure for seepage over walls
There's usually a chain reaction if a water tank begins to leaks. This chain reaction seems to be unprecedented because the water source is virtually unlimited along with a gigantic rate of release for water.
The seepage is caused when water comes in contact with concrete walls and the water absorbed the water into it. This process can be reduced exponentially if the water tank waterproofing in Pakistan is applied over the entire structure.
Increase your house value
When a residential overhead water tank is waterproof, it will naturally beneficial for every household in that building. While selling it to the market, only including this feature will have a good impression of the buyer.
The main concern for every house owner is to ensure that a said hour is completely secure for their stay. Water tank waterproofing in Pakistan explicitly provides a protective solution for anything related to leakage and seepage.
Looking to avail of water tank waterproofing in Pakistan for your residential buildings?
It's worthy to avail of a next-gen solution to protect your home as well as a residential apartment. For anyone whose interest in trying out the water tank waterproofing in Pakistan, simply contact Sky Chemical Services and we'll ensure to get things done more professionally.