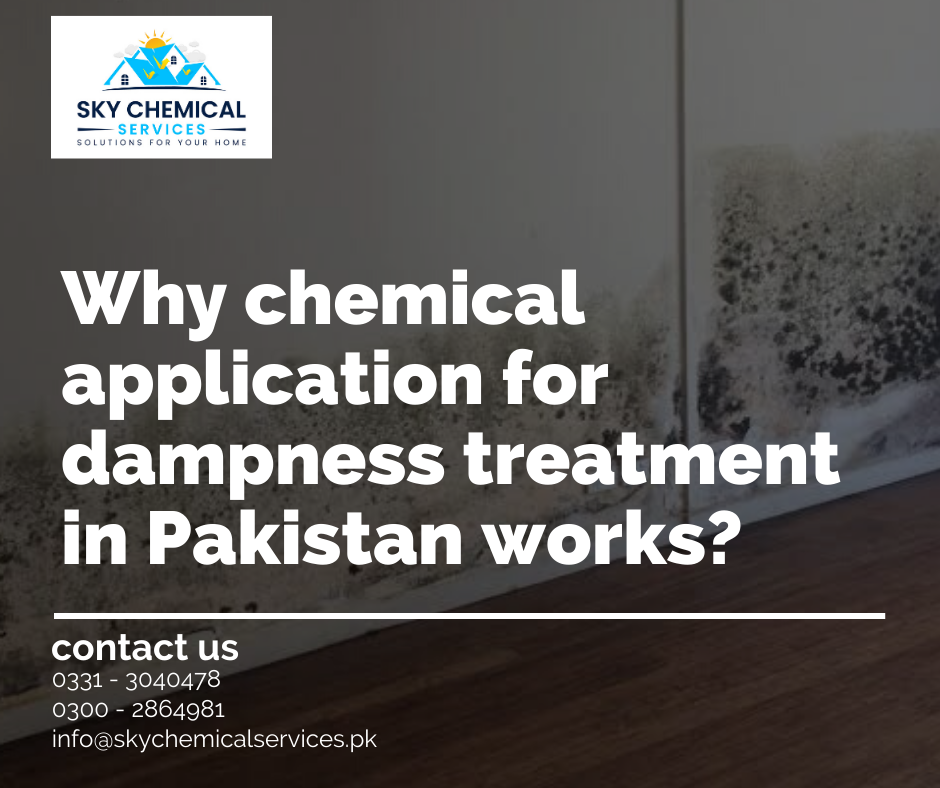 There is not much we can do when water dampness starts to appear over the wall besides repairing the wall from afresh. But as science progressed, there's one solution with promising results, known to the waterproofing chemical dampness treatment in Pakistan.
We would like to explore more about this topic and understand how does dampness treatment in Pakistan works and what makes this solution among the top-rated solution especially for water-based leakage and seepage damage in Pakistan.
Stops water penetration
The first requirement for a homeowner facing dampness over the walls is to stop the water leakage cross from the other side.
Whether its raining or water leaked through tank overflow, the internal structure should be bothered with that. That's where dampness treatment in Pakistan comes into practice.
Through the application of waterproofing chemicals, you can get better results of resisting the water penetration from the other side. The main culprit of dampness is always the water located on the other side.
Read More
Benefits of tiles grouting in bathroom leakage treatment in Pakistan
How waterproofing company handles bathroom leakage treatment in Karachi?
Scientific solution
The chemical application is purely a scientific breakthrough, which is always a good thing to have. You can always apply protective chemicals over the walls, but when there's masonry involved, some breakage and mess are natural.
People can get really at ease when a chemical coat helps them in dampness treatment in Pakistan is ensured. The chemical application is done like any other paint solution, except using waterproofing chemicals mixed with cement solutions.
Best for concrete walls
The dampness over walls is 99.9% of the time is made from concrete. That's doesn't mean that this solution is of no use for anything else.
Although we would still like to explain why does chemical application for dampness treatment in Pakistan does work for concrete in the first place.
Firstly, the waterproofing chemical is mixed with cement and applied over the walls in the form of coating, which makes it evident that the solution is spread all over the concrete wall.
Secondly, one of the highly popular products for dampness treatment in Pakistan is acrylic, which only works for concrete. For other parts, oil based and membrane sheet can also be applied over walls but are uncommonly used for dampness.
Instant result
One of the best things about a chemical-based solution is that it's instantly fixed the dampness issue over the walls. All it requires is that it's applied by a professional and need time for proper drying up.
Because there are multiple services solutions available in the market, it's important to understand the importance of using the chemical-based solution for dampness treatment in Pakistan.
Usually, no one has enough time to go ahead and avail the services of masonry work because it's taken time money to gigantic proportions.
Read More
How to identify good companies for water tank waterproofing in Karachi?
Difference between the concrete roof and corrugated sheet waterproofing in Karachi?
No health issues
There's absolutely no record and neither it will be regarding health issues after applying chemical-based treatment for dampness treatment in Pakistan.
As most people might understand the chemical application is not your usual out of the box solution. Rather it's a potent chemical that is specifically designed inside a factory to deal with leakage and seepage trouble.
Applying over the roof is one thing, but applying over your walls is completely different because the dampness issue is usually deal with from the inside of your home.
Without any reservation, one might get relaxed because there's no trouble for applying chemical application for dampness treatment in Pakistan over one's health. Neither the waterproofing chemical is inflammable for that matter.
Several years of Warranty 
Since waterproofing chemical applications might be still a relatively new concept in the market, people want some sort of reassurance before they avail of this solution in the first place.
All thanks to the solution of warranty, people can get a professionally attuned solution for themselves and above all to ensure that dampness treatment in Pakistan is covered for several years.
Looking to avail of chemical-based dampness treatment in Pakistan?
Many need results and we understand it more than enough that dampness is trouble which should never be left on the mercy of its own.
Through the application of waterproofing chemical-based dampness treatment in Pakistan, Sky Chemical Services will make sure that people get relaxed from the adversaries of water-based damages for the better.