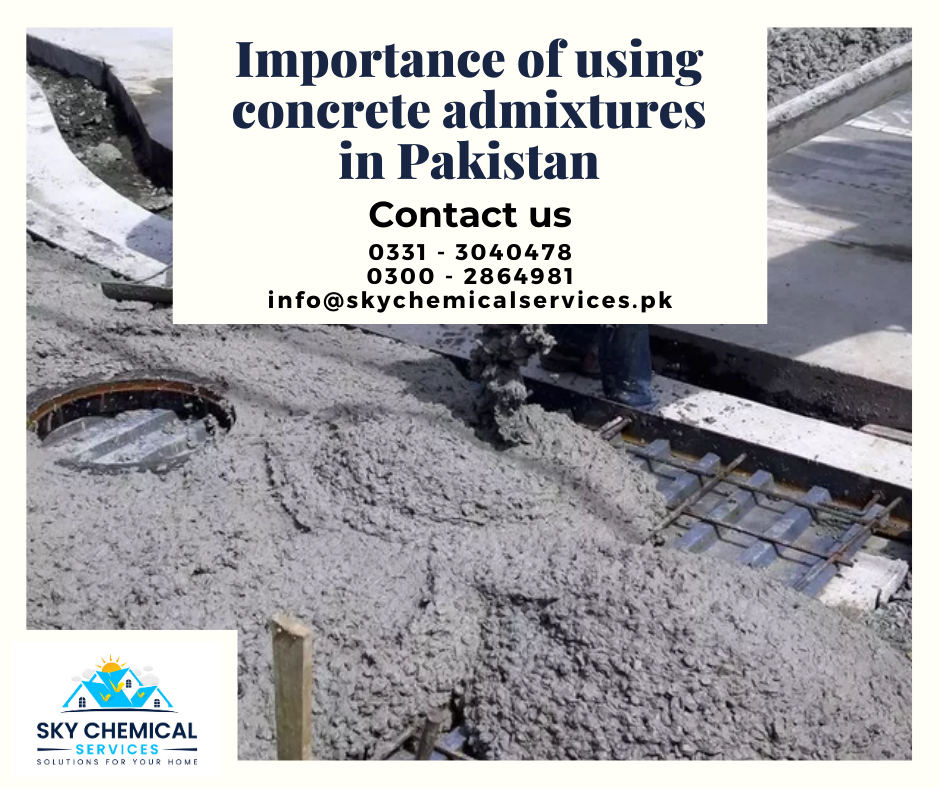 When the world is moving faster than ever before, it demands that everyone must keep up with the relative speed. Particularly in construction, with a lot of development being carried out by the private and government sector, construction projects must be completed before the deadline and at a reduced cost. One factor to make this happen is through using concrete admixtures in Pakistan.
As the name suggests, the concrete admixtures in Pakistan are chemicals which is mixed in the concrete during construction.
We would like to talk more about the benefits of construction chemicals  and how it's imperative to use them for every construction process.
Offer high workability
The construction project easily takes several months or years to complete, meaning its cost is directly proportional to the time required for its completion.
How concrete admixtures in Pakistan helps in reducing the time is that it improves the workability of the concrete.
If concrete is of high performance, less time will be required to curate it as well as wait until the next work could begin.
With several properties of concrete being improved on the application of construction chemicals , simply it improves its performance as well as time reduction in completing the work.
Read More
20 Types of construction chemicals in Karachi 
How to search company that provides construction chemicals in Pakistan?
List of popular water leakage solutions in Karachi
High compressive strength
The main reason that we use concrete in construction is that it is more strong and available in more quantity.
But like any other material concrete has low compressive strength which makes it weaker during an earthquake or overtime when environmental damage comes into effect.
Concrete admixtures in Pakistan helps to increase the compressive strength of concrete. This helps it ensure that construction is earthquake-proof as well as increases its lifespan until the concrete needs to be replaced.
Better durability
Concrete needs to be durable and to make it, we apply the correct ratio of sand and cement. Not to mention curing also helps in making the mortar solution more durable.
All of this takes a lot of time for completion, unlike the application of construction chemicals , which just quickens the time as well as makes it more durable.
There are several other benefits of using construction chemicals  while 50% of the benefits come as making the material durable in the first place.
Water resistivity
Water is the singular more dangerous element that plays a negative part in damaging the concrete. The damage of water over concrete comes in the form of seepage and leakage as concrete has small pores like a sponge that absorbs water.
With the help of dedicated concrete admixtures in Pakistan, it is possible to make the concrete water-resistive and protect your construction for several more years.
Not just the concrete protection but waterproofing ability ensures that your internal elements are also secured for the better.
Wear resistance
No matter how strong concrete is it will still happen to get wear off over time. Most of this happens when there are heavy objects travel across the surface or high traffic is observed.
Through the use of concrete admixtures in Pakistan, concrete gets a sort of wear resistivity which works on its benefits.
Wear resistance means that concrete can withstand more traffic as well as heavy objects over its structure for a longer amount of time when compared to bare concrete without any additional concrete admixtures in Pakistan.
Read More
List of damages caused by water tank leakage seepage in Pakistan
How does waterproofing help fix water tank leakage seepage in Karachi?
Tools used to apply roof leakage treatment in Pakistan
Ultra-high finish
No one likes to see their construction with the below-average finish. When if you have an expert working on plasterwork, the concrete will not level up properly and creates patches of uneven elements which ruins the hard work of construction work.
That's why using concrete admixtures in Pakistan is important to it produce better finishing even if you have average labor working on the finish.
This helps greatly in saving the cost of the project while getting the quality of a professional.
Looking to avail concrete admixtures in Pakistan from an expert?
There are many benefits possible through the addition of concrete admixtures in Pakistan. If you are interested to find more about the material, simply contact Sky Chemical Services, which offers the best range of concrete admixtures in Pakistan for your concrete work.