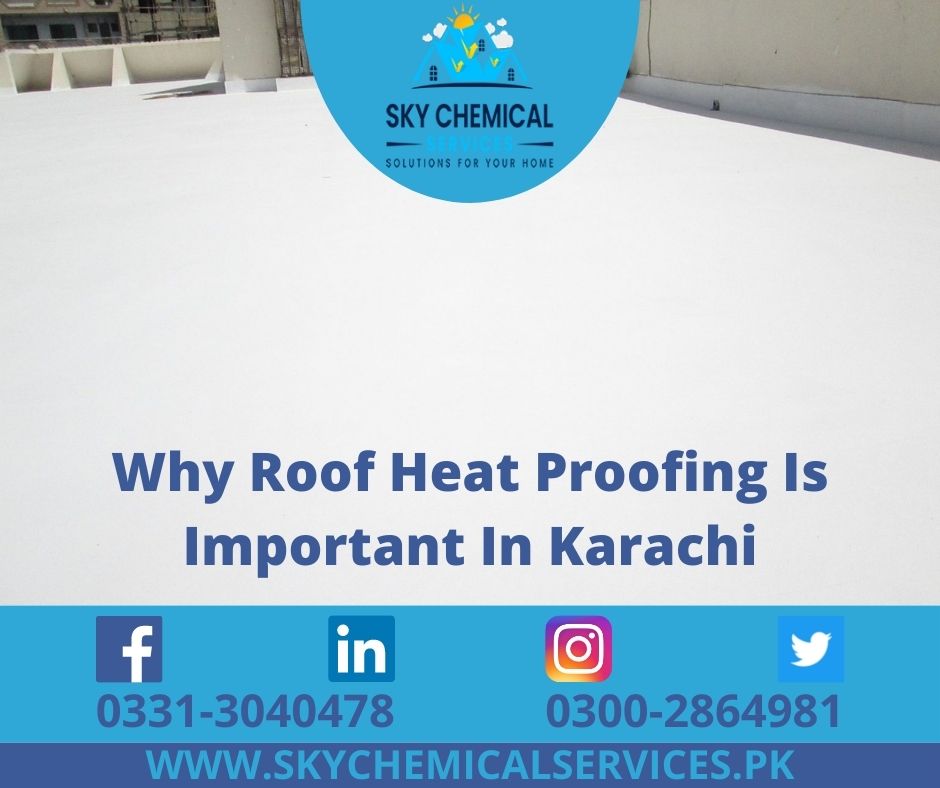 The wealthy lifestyle is the need of an era, the demand for luxury living is intended to have an elite Chemical service. The heavy heat waves are the prime concern of residents residing in Karachi, due to the high altitude of sea level most of the warm sea breezes indulge the city into prominence of warm climate.
The big industries and bulk amount of traffic lie in the heart of Pakistan which is Karachi, which produces a high yield of harmful and dense gases that surrounds our environment; building a gaseous bubble around the city and prevent heat radiation from the reflection in the space. From which heat waves are causing extreme climatic conditions throughout the region.
To overcome these scenarios science has to construct the best medium of chemical services from which developed countries have the benefit.
Why Roof Heat Proofing?
Karachi being called a "City Of Lights" for several reasons, amongst all being an economic pillar is the powerful part; we are proud of that. When the economy uplifts this means that high yields of raw and furnished resources are developing; meanwhile affecting the climate every second. The core problem that arises from this is Heat destruction and we are all at the mercy of it.
For acquiring this substantial problem Roof Heat Proofing has been introduced so far; leading all services through utilizing the latest methods and techniques. As stated, a house can be kept cool and insulated from the scorching beam of sunlight; especially from the roofs and Roof heat Proofing tends to be steadfast in Heat insulation and Heat Proofing.
We have listed down the advantages of obtaining Roof Heat Proofing services in Karachi and enjoy a peaceful mind.
Prolong Roof Life
The house sustains by keeping its essential component well-built; it started ruining through its outer walls and from roofs; primarily, is the main part to be affected by the fierce heat wave or sun's radiation.
All things considered, Roofs are the prime element that maintains the house life and makes it durable. For this purpose, Roof Heat Proofing is the top-notch service in Karachi that is insane for providing complete roof safety by the state-of-art modern Roof Heat Services in Karachi.
We at Sky Chemical Services having ample experience under our belt; when it comes to Roof Heat Proofing services in Karachi.
Variation in Roof Heat Proofing
The customer only relies on the guidance of their contractor for Roof Heat Proofing in Karachi, either it's beneficial for them or not; it is important to understand, several roof heat proofing chemicals are depending upon the quality and the type of roof installed in the houses.
You cannot select it before knowing the best Roof Heat Proofing that suits roofing quality and delivers the best Roof Heat Proofing services that you are seeking.
The next are the top priority Roof variations that uplifts your roof quality
RCC or Concrete Roofs

Pre-cast Roofs

Steel sheet Roofs

Asbestos Sheet Roofs
Cost-Effective
Mostly, these Heat Proofing offerings did no longer value you a fortune; they may be affordable enough that everybody can afford them.
Profitable, they defend your house from harm; they did not should be refinished once you've got finished it.
Sky Chemical Services offerings group are expert; is aware of the way to deal with all sorts of loopholes, gives you with the greatest.
Fire-Resistant
It is the process of the owner to undertake all the vital precautions that can help to save you any destiny danger of hearth being installation around your home. One of the predominant answers which Sky Chemical offers to our clients is through making use of hearth-resistant roof warmth proofing chemicals in Pakistan.
Free-Inspection
Sky Chemical offerings take first-rate satisfaction in our pinnacle customer support. it's miles our riding force to look at the quilt of the day the grins confronted by customers, reflecting the work finished by way of each of our specialists with exquisite diligence to make sure that customers can loosen up and gain complete self-belief once our specialists have entered their location.
The answer issuer and the assignment crew are treated with the maximum care and efficiency that no different chemist's company can handle to ensure that our most effective carrier is assured and is one hundred% guaranteed with more and more customer support and delight.
Looking to apply a chemical-based water leakage solution in Karachi?
If you are looking to find professional Heat Proofing solutions in Karachi that offer Heat Proofing chemicals, simply contact Sky Chemical Services, which aims to offer a wide range of chemical-based Roof Heat Proofing services, including SBR and bitumen membrane.