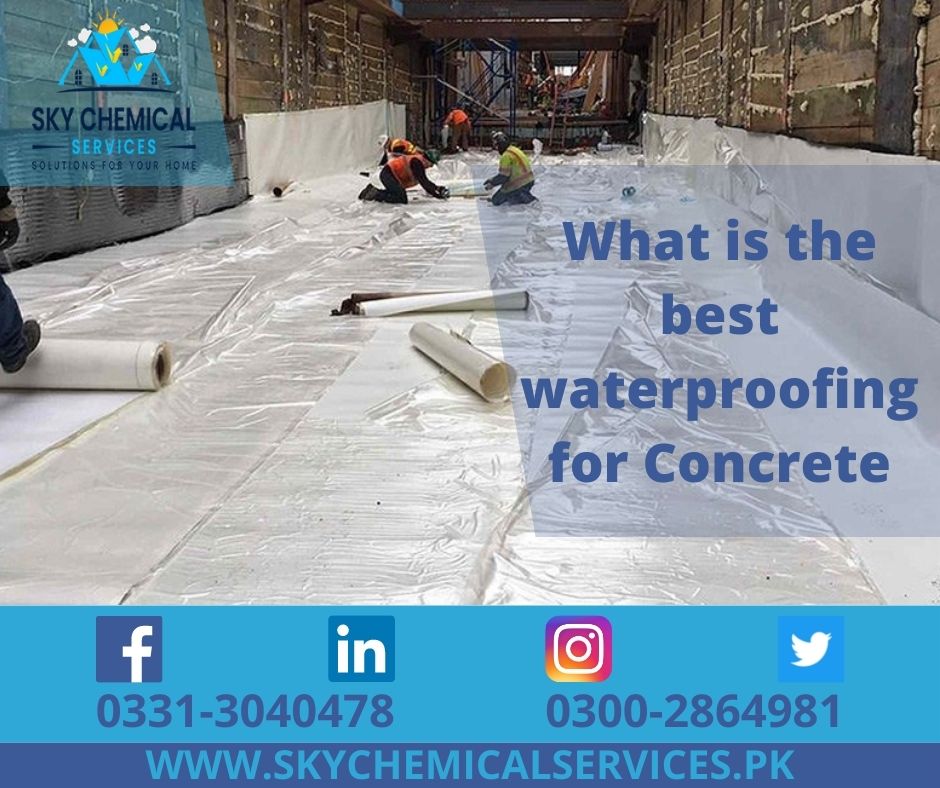 The urge to have the house's concrete waterproof is essential, nowadays the beneficial aspects are noteworthy that every individual in Pakistan would have the benefit out of it. Especially, considering the climate and weather drastic changes and the low-quality use of construction products laid to water leakage and drains, out of which house destruction eventually started.
Sky Chemical Services, being the professionals of the waterproofing industry all over Pakistan carries an immense potential worker in demonstrating their worthy clients about the need for the best quality waterproofing solution for Concrete.
Here, we have defined the complete guidance of the best concrete waterproofing solution that will surely give you outstanding results and a long-lasting housing venture as well.
The list of widely used waterproofing for concrete by Sky Chemical Services is listed below.
How to Prevent and Diagnose Concrete Cancer in Buildings
Elastomeric Coating.
Elastomeric coatings are a secure, durable, and attractive way of protecting and coating your concrete structure from water leakage. They're applied in the same way as painting and priming. You'll need an appropriate exterior primer to color onto the concrete then the polymer paint is going to be applied over the highest. Two coats should be quite sufficient, therefore; the polymer acrylic also will look out for voids, small cracks, and slight irregularities within the surface. Elastomer is a perfect product that has elastic properties and thus will re-shape itself to the structure upon which it's applied. This leaves behind an air- and water-tight seal to shield concrete buildings for several years, despite the temperature.
Membrane waterproofing.
A waterproofing membrane could be a thin layer of fabric acquire to prevent water from contacting another material that it's placed over. Waterproofing membranes could also be adhesive or just laid on top of the material they're alleged to protect. Waterproofing membranes are made up of many alternative materials and are commercially available in various sizes and thicknesses.
Waterproofing membranes are used for several applications, like covering concrete while it's being formed to forestall water from compromising the structural integrity of the concrete or coated on products that are submerged underwater where corrosion may be a concern.
Concrete Foundation Waterproofing, A Complete Guide
Crystalline Waterproofing.
Crystalline sealants work on a catalytic reaction which seals cracks, holes, and tiny irregularities within the concrete. It also seals the capillaries and pores within the concrete and penetrates them to assist close cracks which naturally occur in concrete structures. Silica sand is catered during this method, alongside compound cement and appropriate chemicals for waterproofing and sealing concrete to make a durable and solidly protected concrete surface.
Liquid rubber waterproofing sealant.
Designed to be used on roofs, foundations, basement, concrete, metal, and wood, the liquid rubber waterproof sealant provides a waterproofing effect to stay water bent the surface that it's used on. The merchandise a bit like paint is straightforward to use as all you would like for application may be a brush or a roller. It uses heavy coats to create a waterproofing membrane. The sealant is water-based and doesn't contain any solvent. By implication, it's an environmentally friendly product with no harmful odor and is safe for pets and humans. You'll use it with no special breathing device inside and out of the doors of your home.
Looking to apply a waterproofing on concrete in Karachi?
If you are looking to find professional water leakage solutions in Karachi that offer waterproofing chemicals, simply contact Sky Chemical Services, which aims to offer a wide range of chemical-based waterproofing services, including SBR and bitumen membrane.
Any other query regarding Waterproofing , Heat Proofing , Heat Insulation and Construction Chemical Supplies and Services feel free to contact us at SKY CHEMICAL SERVICES.