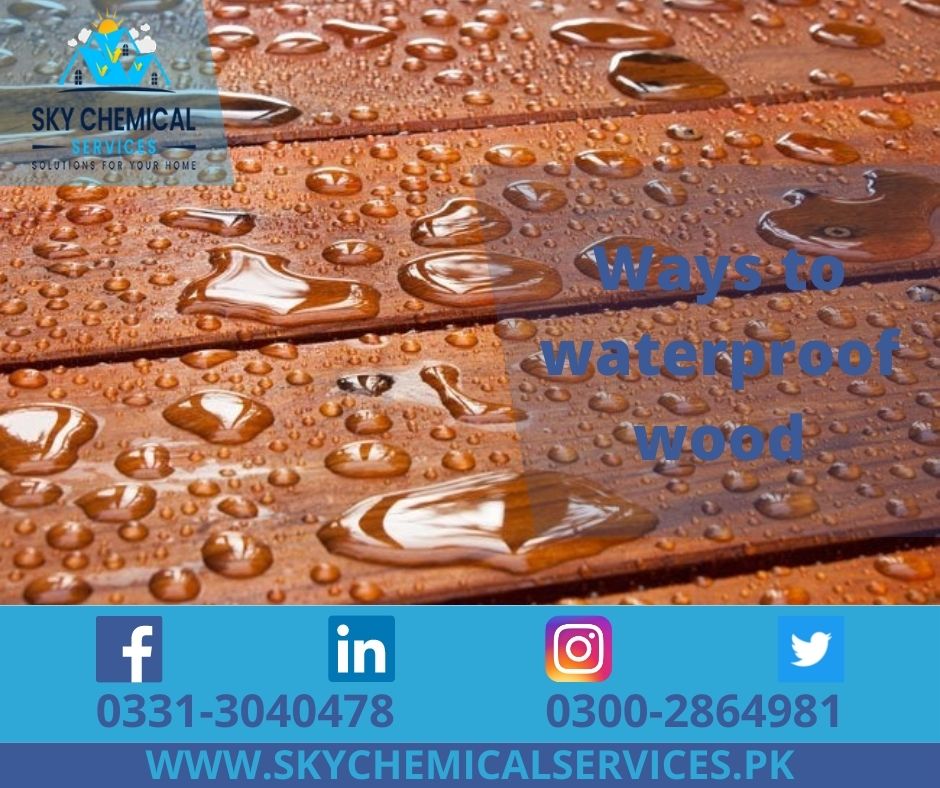 Wood, the world's oldest and most popular building material, is used to create some of the most beautiful furniture, cabinetry, and trim work. Some species of wood tend to succumb to moisture and excessive humidity if not protected, resulting in swelling, warping, and even rotting. Fortunately, treatments that protect wood while enhancing its inherent beauty are readily available.
How to Waterproofing Timber
There are certain techniques to keep your wood waterproof for years.
To make a beautiful and protective hand-rubbed finish, use Linseed or Tung oil.
Apply different types of finishes (polyurethane, varnish, or lacquer) to the wood.
You can finish and waterproof wood at the same time with a stain-sealant combination.
Keep in mind that some waterproofing methods are more suited for interior or exterior objects, while others are suited for dark- or light-grained wood.
Method # 1: Create a hand-rubbed oil finish
Tung oil, extracted from the Chinese Tung tree, and Linseed oil, derived from the seeds of the flax plant, are the foundations for practically all hand-rubbed (a.k.a. wiping) oil finishes. These oils have been used to beautify and protect dark-grained woods like walnut and mahogany for centuries, and they're still in use today—with a few tweaks.
By combining oils with additional substances, you can eliminate stickiness and drying periods. By using Linseed and Tung oil, you can get a unique look for your floor or surface.
Here's how to get started:
Stir everything completely.
Apply with a natural bristle paint brush to sand and clean dark-grained wood. (You need to use one of the two methods if you are waterproofing light-colored wood, such as ash or pine).
Allow the oil to absorb into the surface before reapplying to any areas that appear to be dry.
Wipe away any remaining oil with clean dry towels.
Allow for thorough drying of the wood. This can take from a few hours to a whole day, depending on the amount of oil in the mixture.
Use a fine-grit sandpaper to softly sand the surface.
Repeat the process with as many more coats as necessary to achieve the desired finish.
Feel free to play about with the mixture as you get more experienced with oil-rubbed blends. You can also reduce the amount of mineral spirits to make a thicker product. Also, minimize the quantity of polyurethane if you require extra working time or if you want a shiny finish, use some extra polyurethane.
Allow for thorough drying of the wood. Lastly, use a fine-grit sandpaper to softly sand the surface.
Method # 2: Use Sealants
Sealants, such as polyurethane, varnish, and lacquer are reliable and offer great waterproof covering. They are brushed or sprayed on different surfaces and dried completely before being sanded and re-coated.
Apply your finish in a "room temperature" atmosphere for optimal results. You should never shake or agitate sealants before applying them. This can cause air bubbles to form on the surface, which will stay for a long time after the sealant has dried.
The following are the benefits and drawbacks of the most common types of sealants:
Polyurethane sealants contain different types of solvents, including acrylic and polyurethane resins. These chemicals provide a great finish, from a high-gloss shine to a gentle and soft sheen.
Varnish offers a hard-shell finish that resists scratches and undergoes a yellowing effect. It constitutes of resin, solvent, and drying oil. Choose a varnish that entails UV absorbers to protect wood; one of them is spar varnish that is a good choice for interior use on tables. Also, brushes should be washed with turpentine or mineral spirits.
The sealant of choice for wood furniture is lacquer, which is a mixture of dissolved tree resin or synthetic resin in alcohol. Lacquer renders a scratch-resistant finish on deep-toned woods, despite the fact that it can form a yellowish layer over time. It can be diluted with thinners and comes in several options. Apply many layers of lacquer for best effects.
Method # 3: Stain-Sealant Combos
Choose a premium stain-sealant combination when time is of essence or you're protecting a huge job, such as a wood deck. In a single step, these multipurpose solutions provide color while also providing water resistance. Color pigments are combined with binders, made up of oil, water, or alkyd-based in stain-sealant formulations. The final outcome can be transparent, opaque, or something in between, depending on the pigment concentration in the product. If you're using a stain-sealer on outdoor wood, reapply it every year or two to keep it protected.
For appointments or bookings, contact Sky Chemical Services or give us a call.
Stain-sealants don't build up on the wood surface, with the exception of alkyd-based compounds. Instead, they soak in any surplus evaporates. Alkyd-based stain-sealants leave a light surface layer on the wood, making them suitable for interior wood objects that won't require future applications, such as indoor exposed beams or rustic furniture. If the wood isn't totally clean and dry when applied, alkyd-based stain-sealers have a tendency to peel outside.
Conclusion
Waterproofing wood is an essential element when living in timber-oriented places or you have lots of fixtures made out of wood. Giving it an additional coating of a layered chemical increases its useful life and protects it from slight harm or damage. Also, you tend to have a firm grip while moving on the surface. There are many ways in which you can work this process out, but some of the main ones are using sealants and using hand-rubbed oil finish.
Any other query regarding Waterproofing , Heat Proofing , Heat Insulation and Construction Chemical Supplies and Services feel free to contact us at SKY CHEMICAL SERVICES.