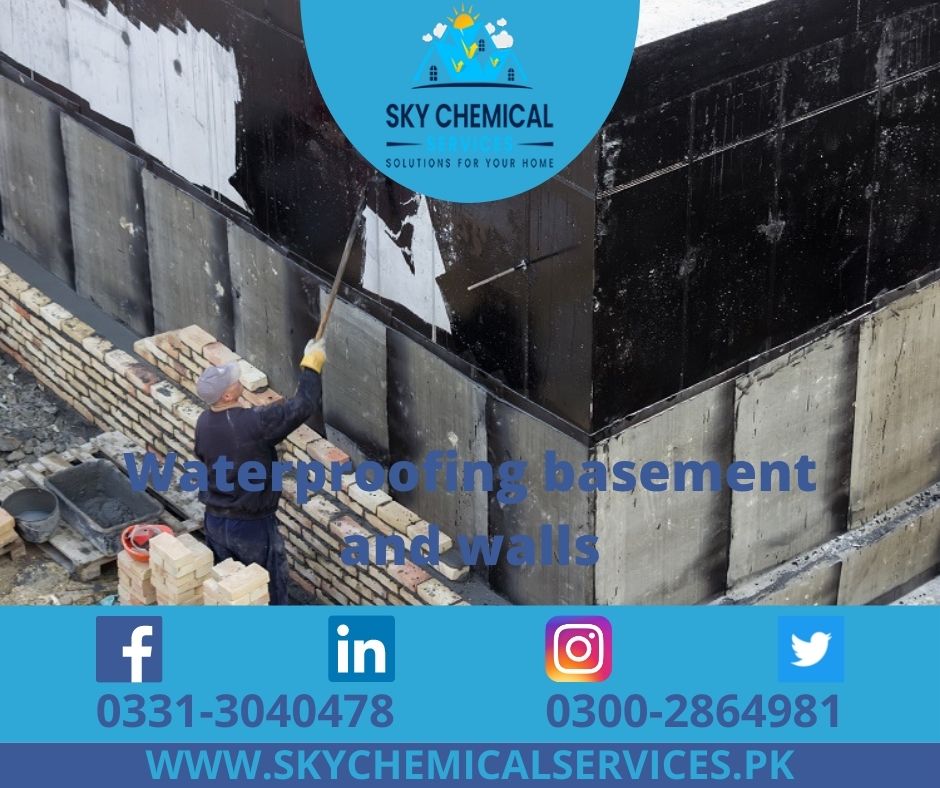 Waterproofing is a process through which you can provide a lustrous coating of different chemicals on surfaces, such as concrete, tiles and others. In this blog, we will discuss various methods related to interior and exterior waterproofing.
How Moisture is treated before Waterproofing
Moisture is the core issue when dealing with the process of waterproofing. Here are some pointers which can help you provide a better coating.
Use aluminum foil by taping it in the basement wall's interior surface.
If you find condensation on the foil's exterior, then you have an issue of excessive humidity in your basement. The solution is to use a portable room dehumidifier or a whole-house humidifier system.
Waterproofing your basement is a good idea if the soil around the house is damp due to rising water-table or poor soil drainage. You can start off with covering the internal walls and then reach out to the exterior part. However, it is an expensive option to work on.
Types of Interior Waterproofing
Concrete waterproofing coatings: These thick, cement-like coatings attach to concrete and masonry walls permanently once dry. A hefty brush consisting of Tampico bristles, a natural fiber, is used to apply the coating. Swirl the brush at the end of the application process to give the wall a clear look.
Silicate based concrete sealers: Densifiers, or silicate-based concrete sealers, are only suited for walls that haven't been painted or sealed. The sealers seep into the concrete or brick and chemically react with the components to generate a hard, waterproof surface. They don't flake or peel because they're penetrating sealers, and you can paint over them. Accessories such as brush, roller, or sprayer can be used to apply the sealer for a DIY project.
Waterproofing Paint: Waterproofing paint has an acrylic base that is similar to regular wall paint. However, you must brush, roll, or spray it accordingly. One gallon of this paint covers 75 square feet, as compared to 300 square feet for normal paints. Waterproof paint is suitable for DIY use and can be used over painted surfaces.
Plastic sheets: Only in conjunction with drainage systems are plastic sheets and panels acceptable for wall waterproofing. They don't prevent water from penetrating the wall, but keep it from destroying the contents in the basement. Water that leaks through the wall travels down the back of the plastic and into a floor drainage system. A sump pump is a device that removes water from your basement.
How do waterproofing experts help in Basement Waterproofing in Karachi?
How Basement Waterproofing can Stop Termites?
Do I really need basement waterproofing?
Exterior Waterproofing
Exterior waterproofing is a three-step process that includes applying a waterproofing compound to exterior walls, installing a waterproofing membrane along the exterior walls, and installing a good yard drainage system.
Polymerized asphalt is applied to the face [outside in this case] of basement walls or perimeter foundations in the same way as polyurethanes are. The material itself is impervious to water. However, the fact that it can expand to accommodate slight movements makes it excellent for use on basement walls and perimeter foundations. If the basement walls or perimeter foundations fracture, this waterproofing material will simply stretch over the cracks, preventing entry of water.
A waterproofing membrane is used to cover the exterior of basement walls or the perimeter foundation to boost the performance of the polymerized asphalt. This waterproofing film is designed to divert water into a drain tile system or a French drain. This is an efficient means of keeping basements and crawlspaces dry, especially when combined with sloping the land surrounding the home in a direction that leads away from the structure. When a waterproofing membrane is put in an ancient house, the earth surrounding the perimeter foundations or basement walls must first be excavated. The membranes and drains are then put in place.
Moisture intrusion induced by continuous foundation settlement or loads will not be fixed by exterior waterproofing. Exterior waterproofing should be left to a professional foundation contractor who is experienced in waterproofing basements and perimeter foundations as well as constructing drainage systems. To request an examination of the area, contact Sky Chemical Services and make an appointment today.
Any other query regarding Waterproofing , Heat Proofing , Heat Insulation and Construction Chemical Supplies and Services feel free to contact us at SKY CHEMICAL SERVICES.