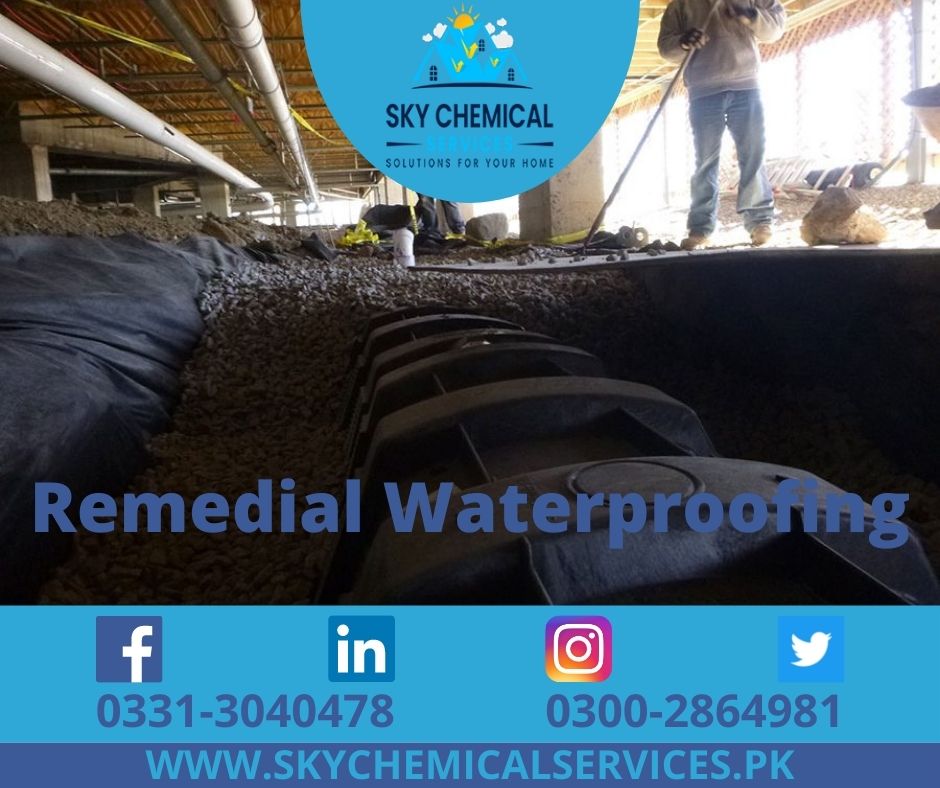 When it comes to homes and commercial buildings, waterproofing is an important part of protecting the structure and maintaining its value. Waterproofing failure can result in cracks, mold, and structural flaws such as concrete tumors. Waterproofing failure can result in safety hazards, a considerable decrease in the value of your home, and unfitness for habitation. Fortunately, if you catch waterproofing problems sooner rather than later, you can fix them and get your home back to normal.
Problems Related to Waterproofing
Waterproofing may account for only 2% to 3% of a building's total costs, while waterproofing flaws can account for up to 80% of a structure's defects. When waterproofing fails, the consequences are severe.
Safety:  Structural damage can be severe enough to render a building unsafe. Landlords may face liability and insurance difficulties as a result of this.
Uninhabitable: Waterproofing failures can result in concrete cancer, mold, and major structural difficulties, rendering a home, workplace, or other location uninhabitable. This might result in a loss of rental income as well as significant repair costs.
Leaks: Water leaks can harm furniture, rugs, and other objects, as well as the structure of the building.
Concrete cancer:  Steel bars or mesh is commonly used to support concrete in buildings, and exposure to air and water can cause the steel to corrode. The steel then expands, causing spalling or cracking in the surrounding concrete. The steel is now more exposed to the environment, and corrosion is speeding up. Severe waterproofing failure is a common cause of concrete cancer.
Why does foundation waterproofing in Karachi have no substitute?
Causes of Waterproofing Failures
Waterproofing failure can have a variety of causes, but the most common are poor workmanship and the use of a membrane that isn't suitable for the job or isn't part of a complete system.
Issues in Multi-Storied Building
When it comes to waterproofing failure in multilevel buildings, the higher levels can be problematic. Rainwater puddles accumulating on the roof can cause waterproofing issues on top-floor levels. Flat roofs, in particular, can collect a lot of rain, which can lead to leaks and eventually harm the building's foundation. Waterproofing failure can also be caused by poor craftsmanship at a higher level, such as faulty plumbing.
Ineffective Waterproofing
Waterproofing failure caused by poor craftsmanship, particularly faulty installation methodology can result in leakage difficulties. When waterproofing difficult areas such as balconies and windows, professional help is required. Poor workmanship also includes incorrect product specifications when the incorrect product is utilized, as well as insufficient substrate preparation prior to the application of the waterproofing membrane.
List of chemicals used for roof waterproofing in Pakistan
Improper Maintenance
Ongoing maintenance, such as checkups and remedial waterproofing, allows you to discover problems early and avoid serious problems like concrete cancer. Even minor leaks and cracks should be addressed immediately, since water damage can quickly worsen, causing serious issues. It's also a good idea to keep the seals on your windows, doors, and wall systems in good shape. Checking balconies, roofs, windows, cracks, and leaks as soon as you notice them and taking a proactive approach to maintenance reduces the probability of a severe problem developing.
Incorrect Membrane Selection
Choose a complete waterproofing system that includes a sheet membrane as well as all necessary accessories. It's also vital to think about how flexible the membrane is to allow for building movement, as well as how resistant it is to UV, chemicals, salt air, and, in the case of green applications, root penetration.
If you require a long-lasting waterproofing surface, contact Sky Chemical Services and book an appointment today.
Checking if you need remedial waterproofing
An assessment of the drainage efficiency of roof regions, the plumbing system, and areas like windows that are immediately exposed to water and the elements should all be included in your maintenance checks. Remember that a comprehensive inspection of the structure is critical for detecting cracks and leaks as soon as feasible. Even if they're far away from water sources, you'll want to check crucial places like rooftops and balconies, as well as living and working spaces.
Commercial roofs should be inspected at least once every six months, with an emphasis on the vents, drains, and other places of the roof where water could leak into the structure. Stains, cracks, and leaks should all be looked for during an examination.
As part of your routine maintenance, check your drains, plumbing, and irrigation. These regions of your building or site are more likely to contain hidden leaks, therefore do a thorough inspection of them on a regular basis. Even the tiniest leaks require immediate treatment, and with prompt action and remedial waterproofing, you may save money and maintain the value of your building.
What should you expect from roof waterproofing in Karachi?
Conclusion
Working on a damaged waterproofing roof requires high skill and knowledge, with respect to flat roofs, basements and walls. Multi storied buildings, for instance, can have accumulation of water over it, which can lead to leakage and water ingress. Also, improper maintenance is another cause for remedial waterproofing to be applied. To reduce these effects, you need to work with grouting, coatings and a proper mix of chemicals to produce a seamless finish.
If you need to know more about our company, visit (Sky Chemical Services)