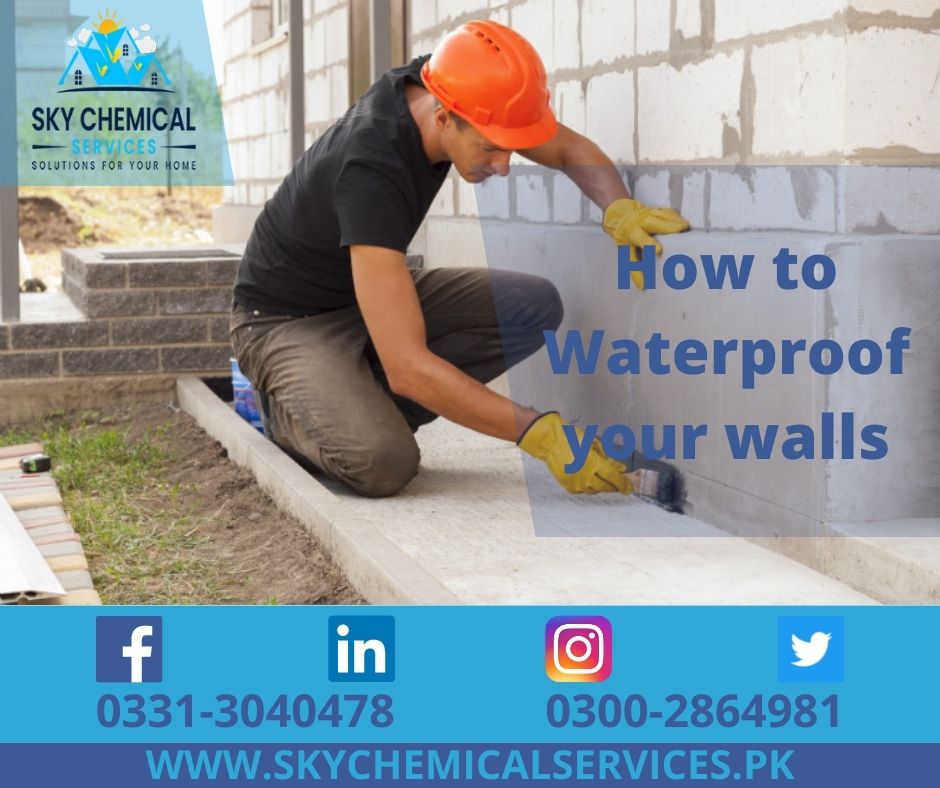 Waterproofing walls and protecting them from moisture is an essential task for any household owner or building manager. It is imperative that the flooring and walls are kept safe from any cracked surfaces or seepage, which can lead to early deterioration of the structure. This is more frequent in areas where rainfall and extreme humidity are present. Ultimately, it can threaten the foundation of your building. However, keeping it safe from damage will increase its resale value and will also prevent mold growth during the monsoon season.
Materials for Waterproofing
There are a variety of waterproofing solutions on the market that allow homeowners to care for their walls. However, if this is your first time doing a home improvement job or if you have no prior building or remodeling expertise, it's better to leave it to the professionals. While their rates and procedures may range greatly, they all use the same materials.
These are some of the most common waterproofing materials, depending on which portion of your home you're working.
Waterproof Concrete Coating
This coating comes with a cement-like appearance that can be put to the surface of walls without removing the paint. It is effectively a waterproofing membrane with a polymer-modified cement top; in short, it is a simple answer to all of your seepage and humidity issues. Interior walls, particularly in bathrooms, are commonly coated with this type of coating. It is one of the most effective methods for waterproofing basement walls.
Benefits of Carbon Fiber Basement Walls
Waterproof Paints
Waterproofing paints for external walls provides the same design as normal paints. However, they are more resistant to rain and heat. They're also simple to use and may be applied with a paint roller by anyone. Waterproof paints form a barrier on the surface of the wall, protecting it from moisture and fungi if applied correctly. Use a waterproof primer on your bare walls before applying a fresh coat of paint for better results.
To waterproof a wall, there are three primary types of paint available on the market.
Paints for Masonry
Epoxy Paints
Acrylic Paints
These coatings are excellent for waterproofing external walls as well as bathrooms. They will, however, fall short of providing appropriate waterproofing for basements and roofs. Also, stay away from applying waterproof paint on top of a damp wall. To work on it, you would first need to eliminate the problem before applying the coating.
Silicone Waterproof Sealant
Silicone Waterproof Sealant, along with PVS-like water seal tape and waterproof grout, is an excellent option to waterproof your kitchen and bathroom sink areas. This product may be used to keep moisture out of the joints between your sink and the wall. This sealant is commonly used around toilets, bathtubs, and even windows, and may be applied by the homeowner. Furthermore, if your walls have any obvious fractures on the surface, you can use silicone sealants to waterproof them.
Silicate Concrete Sealer
Although a silicate-based concrete sealer is more expensive than other solutions, it is one of the most effective ways to waterproof basement walls, roofs, and other surfaces. Silicate sealers penetrate concrete and generate hydrated calcium silicate by chemically reacting with the surface. It then plugs the pores in the concrete and creates a moisture barrier. It also enhances the density and strength of concrete without affecting its appearance.
The liquid silicate sealer, on the other hand, can only be sprayed on unpainted and unsealed surfaces. Also, additional coats of this sealer are necessary to waterproof the surface correctly. The same can be said for different forms of waterproofing materials. One of the most popular methods for waterproofing a wall is to use a liquid waterproofing membrane, which includes spraying a polymer-modified asphalt membrane.
What's the right time to avail basement waterproofing in Pakistan?
Conclusion
It's an essential aspect for buildings and other related structures that the walls, floors and roofs are waterproofed adequately to keep away seepage, water ingress and other potential threats. It is imperative to see that the walls of the building structure are not in any way deteriorating in terms of cracks and ruptures. For this purpose, you will need to add filling material to it before sealing it with a coating.
If you want to know more about our services, visit (Sky Chemical Services)