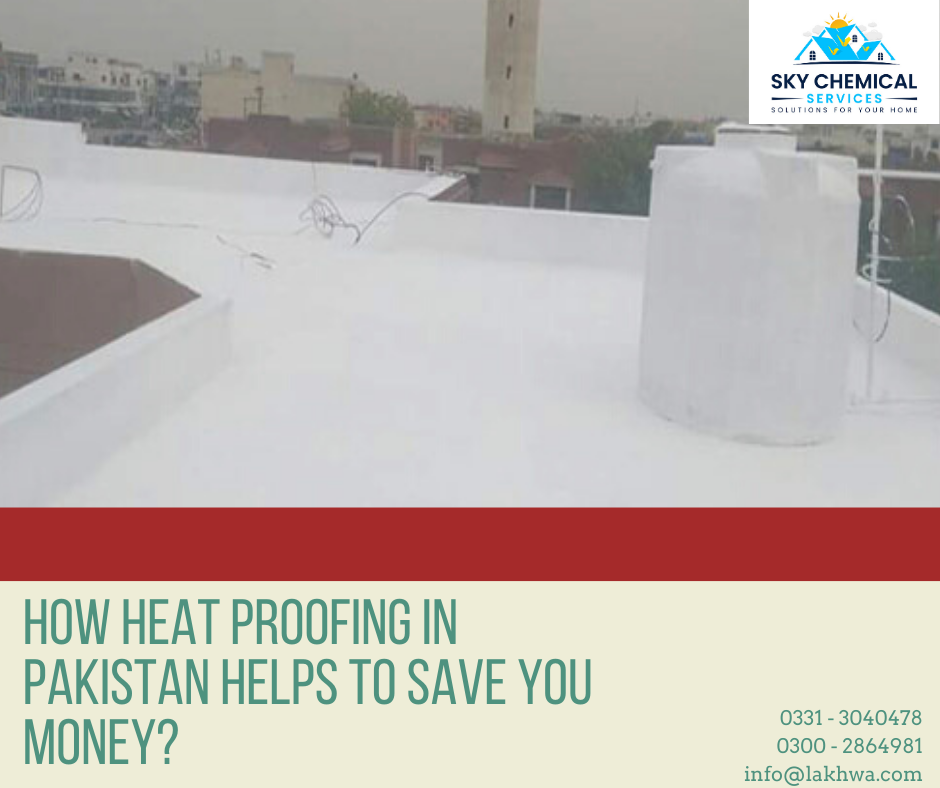 Many people apply heat proofing in Pakistan over their roof to secure themselves from high temperatures. But did you know, the same service can also save you money?
It's not a fully understood topic for many people, which makes it important to let our readers understand how does a person can save money through the application of heat proofing in Pakistan.
Lower Energy consumption
The most obvious element of availing the service of heat proofing in Pakistan will help you to turn your AC on a higher thermostat setting, which eventually consumes less energy.
Not just that, but your room especially where the roof is directly over your head will get cooler quicker. The use of fan and AC combine will naturally be used less.
The main element of using heat proofing in Pakistan in saving electricity seems to work hugely in favor of people who availed the solution in the first place.
Read More
What is the life of chemical-based heat proofing in Karachi?
Reduces heat exhaustion
During high summer days, when heatwaves are in effect, the frequent light outages makes your room like an oven.
There are instances when people get so dehydrated that they need to be admitted into the emergency. With the help of heat proofing in Pakistan, you can ensure that the high-temperature effect will be reduced exponentially.
This is because of the property of reflection of high radiated rays back from your roof and into the atmosphere. The resultant is people feel less heated even if no air conditioning unit is active.
Increase property value
Because of any form of the protective solution, if availed for a property, it will automatically awe many investors and property buyers alike, when compared to those properties where no protective measures are in place.
With this, through the application of heat proofing in Pakistan, it's evident that on selling the property with the coating in place, the cost of the property will greatly have a positive effect in the form of an increase in value.
Increase the life of appliances
Our home includes a various form of appliances which runs either 24/7 or as frequently as we need them. The high temperature often degrades various appliances to a certain degree.
The best course of action is to ensure that average room temperature remains under control, and it doesn't reach extreme levels.
One way to ensure this element is in order is through the application of heat proofing in Pakistan over your roof. Once the heat proofing chemicals start to reflect all the high radiation rays into the atmosphere, you'll see the air of difference in appliance life and its workability for several years.
Cost-effective solution
As the chemical application doesn't require any breakage or heavy civil works, only chemical treatment over the cleaned roof will be enough to have yourself a comprehensive heat proofing in Pakistan.
As every new application is known to be an investment for the future, talking about your home, it's more than an investment, it's for your protection.
Many people when getting fed up with high temperatures then avail the solution of heat proofing in Pakistan. Meaning they are looking for instant application along with the instant result, both seems to be a prime benefit of the chemical-based solution, to begin with.
Return of Investment feature
One of the best things about heat proofing in Pakistan is it's an investment that produces results. The application though is cost-effective in the first place, which eventually improves the expenses in terms of energy savings over a couple of years.
In another view, having the solution of heat proofing in Pakistan also helps people to get less exhausted from high temperatures, which in return will save money spend on cold beverages and other medicines.
Looking to avail service of heat proofing in Pakistan to save some cost for the long run?
If you are interested to avail of this solution to see with your own eyes on saving the cost for the long run, simply contact Sky Chemical Services and we'll ensure that you get the solution worthy of your buck.
Because at the end of the day, it's all about making people's lives better as well as trouble-free.