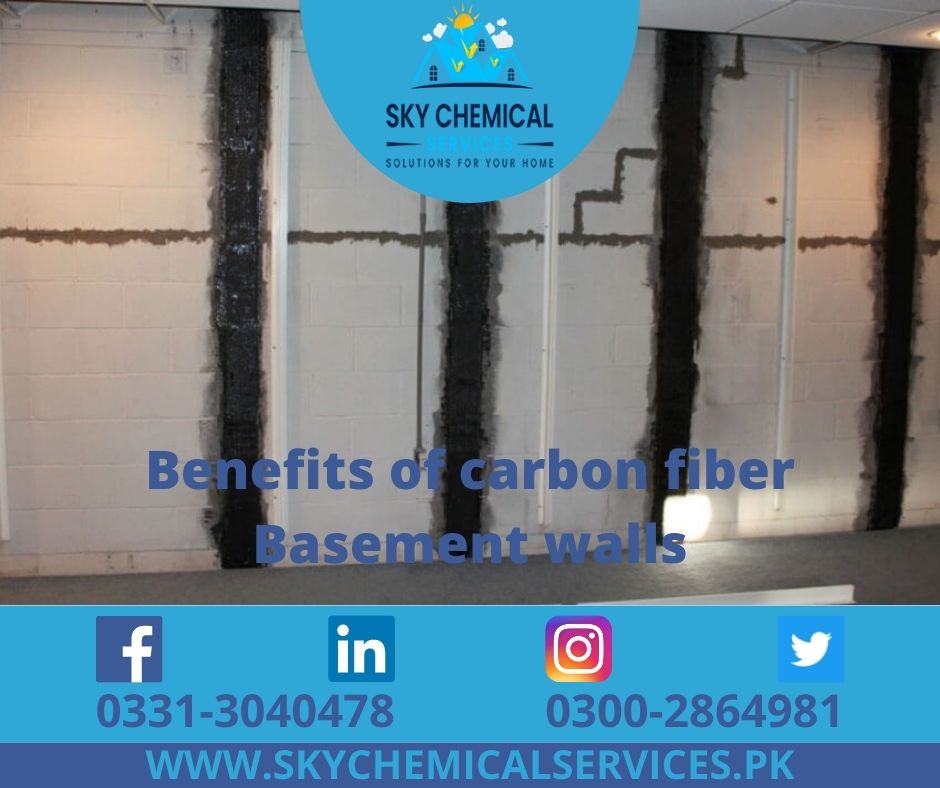 Vinyl siding, for example, has slowly gained in popularity since the 1950s, and spray foam is now routinely used to fill in spaces around windows and doors instead of fiberglass insulation. The method of repairing basement walls has also evolved. Whereas steel I-beams were once commonly utilized to rectify bows or bulges in basement walls, carbon fiber has emerged as a novel alternative for foundation repair and reinforcement. Learn more about carbon fiber basement walls and how they can help your existing foundation gain strength and rigidity.
What's the right time to apply corrugated sheet waterproofing in Pakistan?
How to identify good companies for water tank waterproofing in Karachi?
Why water tank waterproofing in Pakistan is the best solution for buildings?
Carbon Fiber Structural Repair
While steel beams are still utilized on occasion, the employment of carbon fiber strips has increased dramatically during the last decade and a half. They can be installed in complete basements and crawl areas and work on both poured concrete and block walls.
What Is Carbon Fiber and How Does It Work?
Carbon fiber is a material that is made up of thin crystalline carbon filaments and is used to reinforce it. One of its main advantages is its total strength: it's five times stronger and twice as stiff as steel while remaining exceedingly light. It has a wide range of uses in manufacturing, engineering, and other fields.
Basement Walls Made of Carbon Fiber
Carbon fiber provides sufficient wall support for foundations that is both durable and less invasive. It can be installed quickly and with less disruption to your home and outdoor spaces than steel I-beams because it doesn't require excavation.
Carbon fiber can be used to provide structural strength to basement walls for a variety of reasons, including:
Quick to Install: While installation times vary depending on the scope of the project, most carbon fibre basement wall repairs can be done in a day or two.
Carbon fibre possesses a strength that is unrivalled by most other materials on the market. Because it can't stretch or break, the fix is permanent once the strips are properly attached.
Aesthetics: Carbon fibre in a basement wall is almost undetectable, and it usually appears as a little bump along the surface of the wall.
Maintenance-free: There is no need for the installer or the homeowner to perform any maintenance as long as the carbon fibre strips are properly fitted.
Carbon fibre is often less labor-intensive, therefore it may be less expensive than wall anchors or wall braces.
Carbon fiber repairs may not be appropriate for all basement wall repair tasks, but if the wall has deflected or bowed by two inches or less, carbon fibre should be able to remedy it. Our educated technicians at Premier Wall Anchor and Waterproofing can assist you in determining whether carbon fibre basement wall repair is appropriate for your scenario.
For Carbon Fiber Basement Wall Stabilization, contact Sky Chemical Services and get an appointment today.
If you've observed that your basement walls are cracked, bent, or bulging, carbon fibre installation could help you solve the problem. Sky Chemical Services certified technicians have the abilities and experience to help you with structural damage, leaky basement walls, and waterproofing services.
Why Carbon Fiber is the Most Obvious Pick?
The Carbon Fiber System is the only fabric carbon fiber product that meets the ACI 440.7R-10 code for Fiber Reinforced Polymers (FRP) on Masonry Walls. Carbon Fiber is 10 times stronger than steel and is specifically built for basement walls, making it significantly stronger than concrete. The product's tiny width of just seven inches makes it far more unobtrusive than other fabric carbon choices.
Because of the system's unusual flexibility, it can curve closely to the wall, assuring complete coverage and adhesion to your basement wall. Carbon Fiber can "hug" the wall closely no matter what shape it is in, whether it is slightly bowed, heavily bowed, or fractured in multiple places.
The low-profile design allows easy installation in confined locations and behind obstructions such as plumbing lines and electrical conduit on the wall. Furthermore, the system may be simply disguised with paint for a finished look that is nice and tidy. To glue the strap to the wall, many laminate and grid products employ a thick epoxy that does not penetrate as deeply into the wall or fully saturate the strap's fibers. It's also impossible to see the link that forms between the strap and the wall visually.
Why bathroom waterproofing in Karachi is important for your mental health?
Does bathroom waterproofing in Pakistan help to reduce insects?
How waterproofing company handles bathroom leakage treatment in Karachi?
Conclusion
Carbon fiber is a material that consists of thin crystalline carbon filaments used as a strengthening material, especially in resins and ceramics. They are also used to cover basement walls as they come with various advantages. Some of them include quick installation, maintenance-free application and great aesthetics. So, if you think this material is an ideal pick for your home, use it to fix the foundation leaks and cracks.
If you want to know more about our services, visit (https://skychemicalservices.pk)