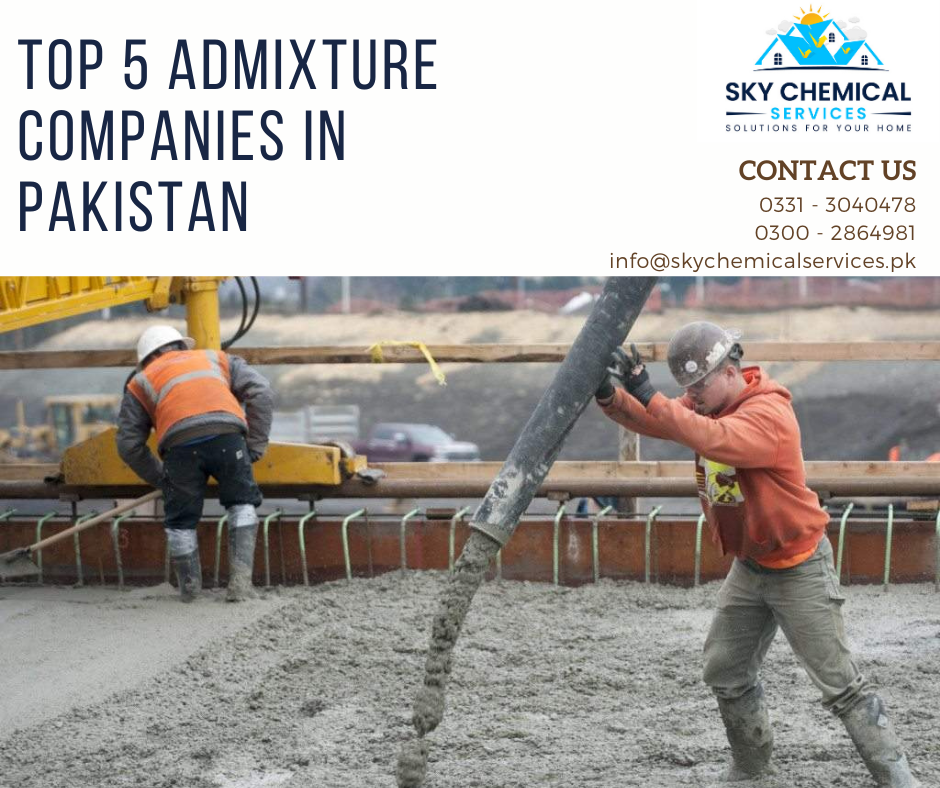 The rile of admixture companies in Pakistan is to offer various forms of chemicals which are mixed or coated over the concrete to solve problems that are not possible without it.
It's a need of the hour and every professional contractor who is constructing large projects must need to contact construction chemical companies.
For the same reason, we have listed some of the top 5 admixture companies in Pakistan which are offering their service in sound focus.
Sky Chemical Services has been providing construction and admixture chemicals in Pakistan for several years with great zeal and devotion.
With a large array of solution within their spectrum of admixtures, Sky Chemical Services offer the application work along with the chemical procurement.
Although the procurement is done within the entire Pakistan region and quality without compromise makes Sky Chemical Services within the top construction chemical companies.
Waterproofing.pk as the name suggests aims in providing services in primary waterproofing service.
Within its portfolio, waterproofing.pk also offers heat proofing services in Pakistan which is of great options.
Being one of the expert admixture companies in Pakistan, waterproofing.pk offers a solid range of solutions that ranging from SBR admixture, acrylic-based as well as elastomeric solutions.
One of the best things that we would like to convey about waterproofing.pk is that it's regarded as one of the fastest-growing construction chemical companies with a prominent service portfolio.
Lakhwa Chemical Services is a company that has been under the face of the earth for over 10 years. With the experience of waterproofing, heat proofing, and insulation, Lakhwa.com is also the right source for offering admixture chemicals in bulk.
Talking about the entire Pakistan region under their jurisdiction, Lakhwa.com makes sure that waterproofing service is offered like none other and at competitive rates.
Talking about the services under the banner of construction chemical companies, lakhwa.com prime solution is SBR which helps make the concrete water-resistant within its structure.
Mitchell Construction chemicals is a without a doubt comes under top admixture companies in Pakistan.
The range of services where Mitchell construction chemicals offer their solution comes under the domain of Industrial flooring, waterproofing, concrete repair, non-shrink grout, tiles adhesive, and another sealant among the few.
With a wide range of services provided within the spectrum of admixture solution, Mitchell construction chemicals have a large and comprehensive clientele which offer a clear understanding that it's considered one of the admixture companies in Pakistan.
FosPak offers a great range of services and solutions which labels them as one of the leading construction chemical companies.
Solutions such as concrete admixture, surface treatment, joint sealant, waterproofing chemicals, industrial flooring, and industrial adhesive, many clients can get the resolved solution for their portfolio.
One of the main benefits which FosPak offers is that they have a dedicated range of providing bitumen products that include bitumen membrane, high-grade bitumen, modified bitumen, and bitumen for patch repairs to name a few.
What features to look for best admixture companies in Pakistan?
There are some of the features which are needed for admixture companies in Pakistan. We have listed them down for our readers to learn about the companies that offer the services in the first place.
Wide range of option
The thing about the best admixture companies in Pakistan is that they should offer a large option for admixture solutions.
The admixture chemicals come in various services that include waterproofing, protective coating, concrete admixtures to label a few of them.
Some companies also offer application service, which is beneficial for clients who need protection over their roof from leakage and seepage.
Competitive rates
Rates are put up as the most important feature that differentiates from a good to bad admixture companies in Pakistan.
It's up to the customer to search for a reputable as well as competitive company that offers admixture in Pakistan. This is true for most reason since admixture chemicals are usually availed in bulk quantity.
Good reputation
If you are looking to get admixture chemicals from a company, make sure to read some positive reviews and ratings on their social media page.
Having positive testimonials goes a long way in getting positive business as well as highly reputable clients to avail the services from top admixture companies in Pakistan.