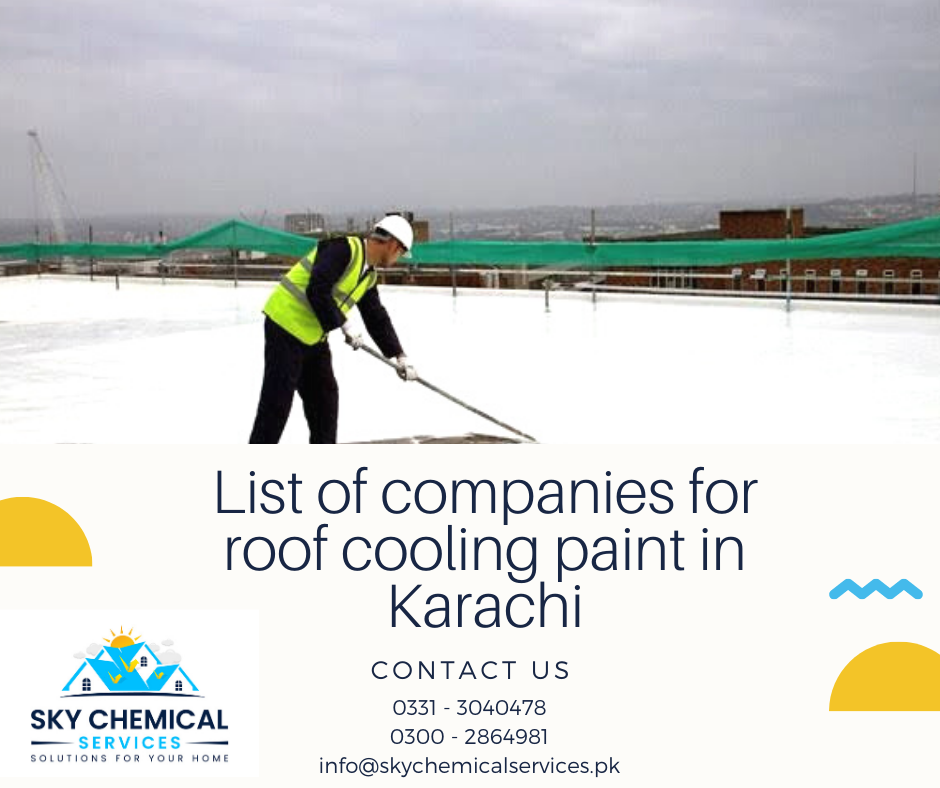 During the unprecedented heat over the roof, it's important to think out of the box type approach because air conditioning is an expensive solution, to say the least.
One solution that fixes the issue of extreme heat during the summer season is roof cooling paint in Karachi.
It's a special kind of chemical which is applied over the roof floor to ensure that all high temperature is reflected into the atmosphere while making your roof cooler than before. It's effective for heatwave protection, which enables walls and roofs to become very hot for extended hours.
We have listed down some of the companies located in Karachi which offer the best roof cooling paint in Karachi for customers.
Sky Chemical Services provide top-class chemicals that range from waterproofing to heatproofing and fumigation.
Their portfolio also contains heat insulation material, particularly PU foam spray. Talking about roof cooling paint in Karachi, the chemical is offered differently, from single kg up to large drum.
Sky Chemical Services not just supply chemicals, but also apply what they offer. Through their expert technical labor force, the application of roof cooling paint in Karachi is ensured with guaranteed results.  
Waterproofing.pk is considered one of the most prolific companies that handle waterproofing and heatproofing chemicals in Karachi.
With the high amount of traffic and immense popularity among the peers, waterproofing.pk has maintained its reputation as the most result-oriented company that offers roof cooling paint in Karachi.
With the help of professionals working for you behave, the application work is also covered through charges as square per feet rates, which is also quite competitive.
Lakhwa Chemical Services has been working in the department of chemical application and construction sector for several years with great success.
Through dedication to their work and providing what they offer, Lakhwa Chemical Services has made a name for themselves in Karachi as top-rated waterproofing and heatproofing chemical provider.
Talking about roof cooling paint in Karachi, the company offers top-class elastomeric chemicals which are not just cost-effective for application but also work for several years to come.
Situated in Karachi, Mr. Roof understands what the client needs. With a great profile and portfolio, they have managed to get quite a great positive review through providing a solid solution in the department of chemical-based application.
Starting with roof cooling paint in Karachi, they make sure that no heat comes from the roof and does the work to the customer's requirements.
As we all know that customers are always right, it's is truly practiced by Mr. Roof through hard work and dedication, and gain the trust of customers that lasted for years.
It's an important concept that expertise prevails in the service sector, that is what is provided in Zem Chemicals.
The company provides services that range from waterproofing, leakage-proof cement mixture, admixture, heat proofing chemicals, and other construction chemicals in the market.
The Zem Chemicals understands more than anything else that customer needs a solution that works for several years and doesn't downgrade the service over time passes.
As the name suggests, the Roofs Master calls themselves the "Masters" of the roof in protective from water leakage and high temperature.
Not just chemical alone is enough for fighting these troubling elements effectively, but the assistance of an expert application is also needed. That's where Roofs Mater comes into the picture.
As for the application of roof cooling paint in Karachi, the company offers the service for customers that are fed up with high temperature which are only increasing as the days goes by.
Did you know, the heat proofing is only applicable over the roof's external end, while waterproofing chemicals need to be applied over several places, such as the water tank and bathroom.
MCS Waterproofing Services offer a variety of solution that deals in the application of chemicals on the roof and other places.
For roof cooling paint in Karachi, the heatproofing chemicals do a decent job and ensure that quality work is provided for a customer that works for several years.
Besides heatproofing, they also offer bathroom waterproofing solutions along with fumigation control for customers in Karachi and suburbs area.