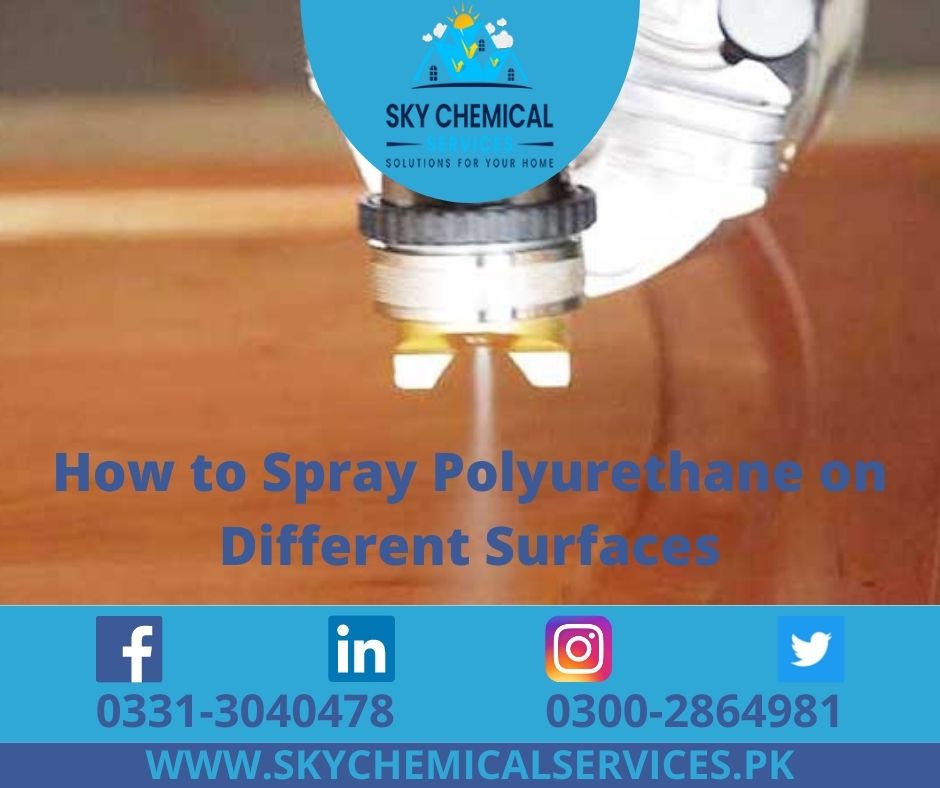 Polyurethane spray application is a tedious and tough paint job that requires precision and accuracy. The layer is a smooth coating of different chemicals that protects various surfaces, such as wood, steel, metal roofs, etc. The process of using this plastic-oriented chemical (water-based or oil-based) is demanding and requires a high level of skill and acuity.
In this blog, we will discuss the types of polyurethane coatings, how can it be sprayed on surfaces and various other aspects.
Different Factors based on the Right Type of Polyurethane Coating
When selecting the type of polyurethane coating for your premises, there are various aspects to consider, such as drying time, quantity of coat applied, etc. Although both forms of polyurethane are attractive and functional in their own way, but they are distinct advantages and qualities of each. As a result, deciding whether to employ an oil-based polyurethane spray or a water-based polyurethane spray is critical. To know more, give a call today at Sky Chemical Services and know about our polyurethane coatings.
Oil-based or Water-based Polyurethane
Water-based polyurethane is more transparent than its counterpart. It also emits fewer hazardous gases and volatile organic compounds than oil-based polyurethane, making it more environmentally friendly. Water-based polyurethane, on the other hand, is less durable than oil-based polyurethane.
Oil-based polyurethane coats better than water-based polyurethane. It can also be sprayed on wood. Lighter woods benefit from water-based polyurethanes, while darker woods benefit from oil-based polyurethanes.
Epoxy vs. Polyurethane – Which one is better?
Drying Time
Oil based polyurethanes are slower in drying than water-based polyurethanes, so, according to your requirements, you need to choose the one which best suits you. Water-based polyurethane sprays dry in two hours and can be recoated and washed with water, whereas oil-based polyurethane takes five to twelve hours to cure entirely. Four hours is the quickest time which is taken by fast-drying oil-based coatings. So, if you're short on time and need to finish your project swiftly, you have this option.
Finishing Touch
As far as finishing is concerned, oil-based polyurethane coating provides a better performance than water-based. Also, it requires fewer coats to finish due to their thicker consistency than water-based polyurethanes.
Environment
For optimum performances, both types of polyurethanes necessitate specific operating conditions. Water-based polyurethane dries quickly and can be used almost anyplace. Oil-based polyurethanes, on the other hand, should be used in a clean atmosphere because they can take a long time to dry. Insects and dust will attach to the surface of oil-based polyurethane if it is not applied in a clean environment, reducing the quality of the finish over time.
Cost Effective
Oil-based polyurethane is less expensive than water-based polyurethane. So, if your budget is limited, you need to give oil-based coating a try.
How to Spray Polyurethane
When spraying polyurethane paint for wooden or other surfaces, this step-by-step tutorial will come in handy.
Manage Your Workspace
Your first priority should be to organize your workspace. Before you start working, make sure the workspace is clean. Spraying the material or any surface in a clean environment is required. Also, keep everything you'll need for spraying within easy reach.
Sand the Floor
After you've set up your work space, you'll need to prepare the surface on which you'll spray the polyurethane paint. A clean, dirt-free surface is required. Wipe the surface with a clean cloth if necessary before spraying. To ensure a perfect finish, sand the project surface before applying any stain or polyurethane.
Putting the Sprayer in Place
Spraying the proper amount of polyurethane is crucial to your project's success. In this case, you'll need a good paint sprayer with an adjustable knob that allows you to manage the amount of product that flows through it. It would also be a plus if the paint sprayer came with a variety of spray tips.
Spraying a Thin Layer of Polyurethane
Before spraying, polyurethane coating must be prepared properly. Thinners may be required for thicker polyurethane coats to make spraying easier. If you detect huge clots or an orange peel effect after spraying the material without a thinner, you should either add more chemical or attempt a slightly higher air pressure setting for this purpose.
 Using the Right Spraying Technique
To get top-level results while spraying polyurethane, there are a few rules to follow.
Spraying should be done in a long, steady motion. Starting and stopping will result in dense polyurethane patches in some locations and less coated areas in others.
Running and dripping can be avoided by maintaining a constant movement.
Maintain a firm wrist while spraying to ensure a homogeneous and dense coat.
Always keep in mind the many spray patterns accessible, since you'll need to change them depending on how and what you're spraying.
Conclusion
So, it's up to you whether you want to go for water-based or oil-based polyurethane coating. The factors that differentiate them should be clear, such as drying time, quantity of thinner to be used and others. Have a great time working on your furniture or other metal parts.
If you want to know more about our services, visit (https://skychemicalservices.pk/)