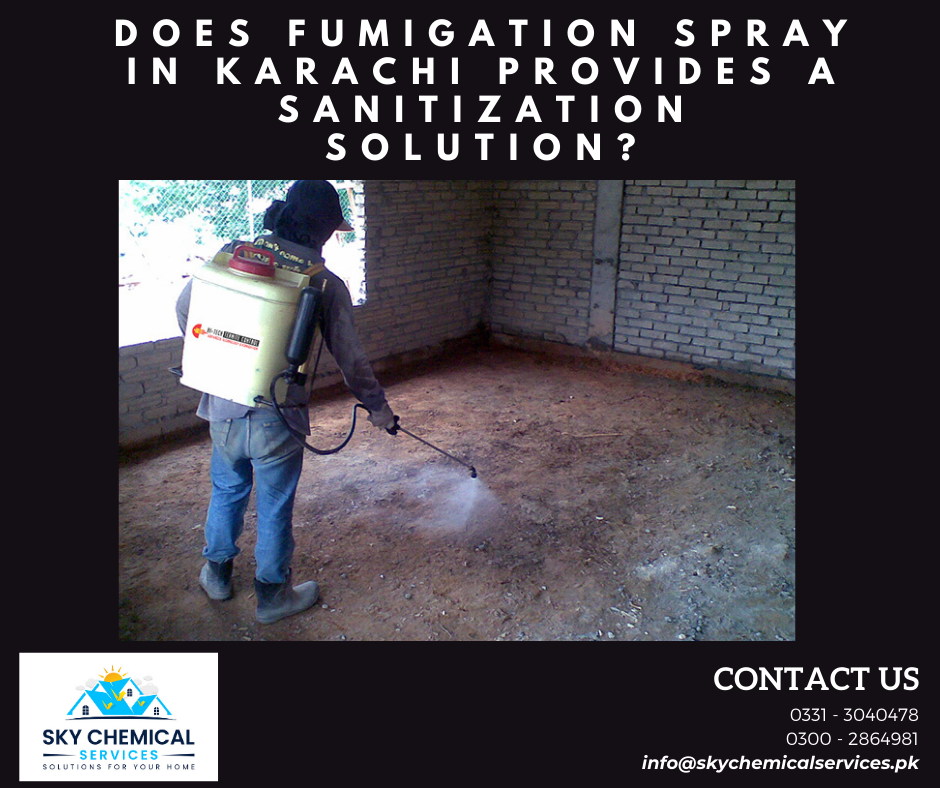 In the age of post-COVID, whether it's home, school, or office, we often are left with some burning question, how to perform disinfect the entire facility. A short answer is to contact a professional fumigation spray in Karachi and services.
The main reason to contact someone different service provider is to avail their equipment in use for disinfectants for your property.
Here are some of the benefits of hiring the fumigation spray in Karachi for your mass sanitization needs.
Antiseptic disinfectant spray
Let's start with the first chemical that helps fix the issue of disinfectants for good, which is commonly known as antiseptic disinfectants.
Thanks to the services of fumigation solution, we can avail the industry-standard equipment such as spray to ensure that the disinfectant is properly applied and in less time.
That or we must purchase a separate spray for the use of disinfectant, not to mention the additional cost for buying additional equipment for protecting ourselves during the application phase.
Fogger solution
The benefit of another equipment needs to be properly inducted in the main solution provided by fumigation spray in Karachi, known as a fogger.
A fogger is a useful piece of equipment if you want the chemical spray far and wide very quickly. With the help of some closed doors and windows, we can spray the insides of the room quickly and effectively using a fogger.
This and more can be availed through the solution of fumigation solution. The chemical helps in providing much-needed relief from infectious elements such as the corona virus.
Steps performed by fumigation spray in Karachi
There are center steps followed by your usual fumigation spray in Karachi and services provided.
Fumigation control specialist ensures a comprehensive solution that ranges from terminating insects and complying with modern days problems such as disinfection solutions to counter corona virus.
Ensure proper ventilation
Thanks to the expertise of professional fumigation solution, there are few steps taken to avail proper application of disinfectant over a facility.
Unlike ordinary fumigation control, proper ventilation is required for providing disinfestation over the entire premise.
If the location is inside, opening doors is required. This helps to ensure that chemical fumes don't stay for much time, as the virus protection is only possible through chemical spray solution.
Use water for chemical dilution
The chemical needs to be properly diluted with water. This helps in two ways, first, it ensures that quantity is increased so that more application is possible, and secondly, that the chemical potency is reduced so that it doesn't harm living beings.
All of this is ensured and maintained by the professional at all costs. All the practice is inherited by an ordinary solution providing in the department of fumigation spray in Karachi.
Use wipes to sanitize important surfaces
The professional in the department of fumigation spray in Karachi knows why it's important to sanitize surfaces.
Insects leave a trail of germs on usual hotspots. These trails must be properly cleansed either using bleach water or using insecticides.
Thanks to similar knowledge, the fumigation solution can engage in providing the sanitization solution simply by using the same method of wiping important surfaces using sanitization.
List of Protective gear equipped by Fumigation spray in Karachi
The use of the protected gear is recommended in fumigation spray in Karachi. But when COVID is on the rampage, it's only common that protection is availed for yourself and others.
Below are some of the protective equipment which is used by fumigation solution and experts in the infection applicant's regime.
Waterproof Gloves
It's not simply wearing gloves of any kind that is in question, but only the waterproof ones. Gloves help protect your hand and from exposure to dangerous chemicals in the first place.
Mask
You will be breathing air, but with chemical toxicity in the air, it's important to secure your breathing through a filter mask that cleans of air from any dangerous elements.
Long sleeves shirt
Gloves are not enough when getting engaged in fumigation spray in Karachi. You need to make sure that wearing full sleeves shirt if a personal protective suit is not possible.
Want to avail of fumigation spray in Karachi in today's post COVID era?
There's by no means a relief that some expertise of fumigation spray in Karachi comes into practice to securing ourselves from COVID germs.
Keeping this feature in mind, contact Sky Chemical Services, and through their experts in fumigation control, we can get some much-needed protection instantly and homebrew.