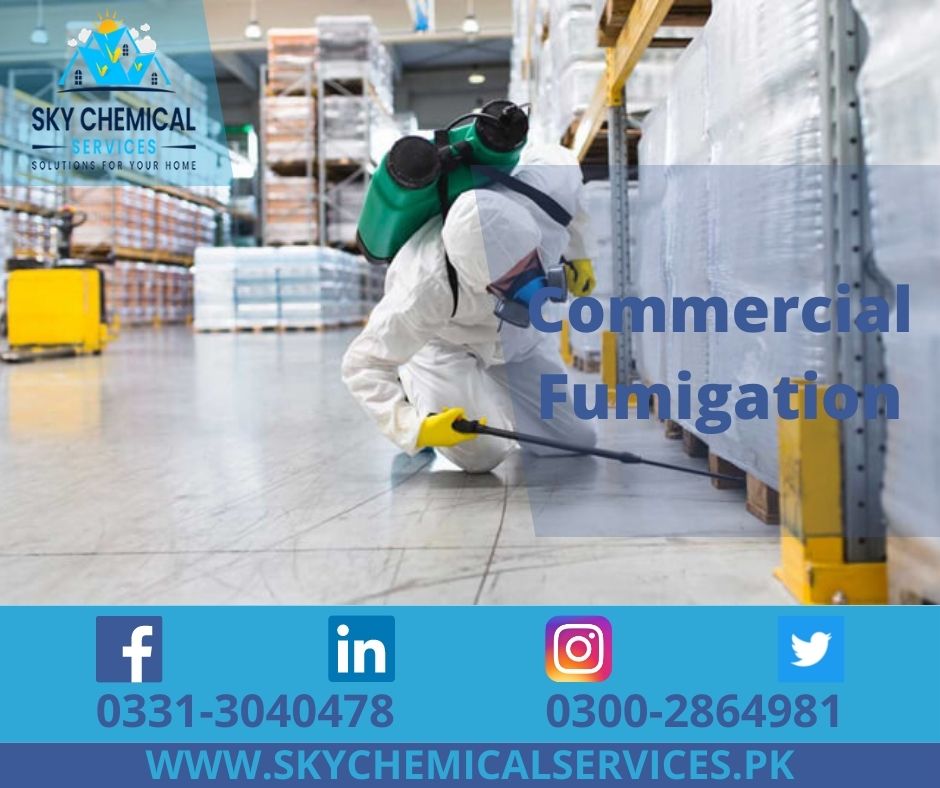 What is commercial fumigation?
Fumigation is a pest management method that involves using chemical gases (fumigants) to kill bugs in confined spaces. On a commercial level, it is effective against all stages of insect development and can be used to help eradicate a variety of pests such as Stored Product Insects (SPIs), cockroaches, and bed bugs in commercial settings such as food and beverage processing and hospitality facilities, especially when international trade is involved to prevent the spread of exotic organisms.
Preparing for Commercial Fumigation
If your facility is scheduled for a commercial fumigation, there are several actions you can take to make it a more successful event. It is important to carefully prepare the interior and outside of the building for the appropriate dispersion of the fumigation ingredients as well as the preservation of your property.
Notify all workers and/or occupants of the building of the scheduled fumigation. Hold an informative meeting to educate them of the fumigation preparation process and other pertinent facts. If at all feasible, have a fumigation expert on hand to address any questions or concerns that may arise. Food, pharmaceuticals, animal feed, cigarette products, and medicinal can be left in the premises, but they must be assessed to see whether special packaging is required.
Following objects should always be taken out of the house or bagged for further protection:
Packaged in plastic, paper, or cardboard bag or box.
Packaged in foil-wrapped, such as beverages, sauces, or snacks.
Packaged in reusable plastic containers.
Any form of product.
These products may not require further protection if they are sealed in their glass, plastic, or metal bottles, jars, or cans with the manufacturer's original seal remaining intact. If you have any concerns, you should definitely consult with a professional. The next phase is to prepare the inside and exterior of the remaining buildings.
Areas should be accessible to the fumigation team so that the process can be completed easily.
Drawers, doors, closets and cubbies should be open for ease of application.
Remove plants or animals from the building.
Open and provide ventilation to all water-resistant covers, chairs, sofas and office furniture to avoid gas entrapment.
Keep the windows open.
Fumigation process usually takes around 24 to 72 hours and needs 6 hours for the chemical to thoroughly spread throughout the structure. However, it depends on the size and outdoor conditions.
How does Fumigation Protect Corporate Entities?
Beetles, phocids, rodents, bed bugs, spiders, ants, flies, mosquitoes, and bed bugs are all successfully treated by fumigation. Motel operators, for example, are aware of the negative impacts that a bed bug infestation may create. The number of bed bugs can be reduced and relieved quickly by fumigating the entire facility. A large insect infestation in a commercial building can result in a slew of issues for the business owner. If left ignored, insect infestation problems can lead to product contamination and loss, facility structural damage, significant financial losses, and a tarnished reputation.
While a fumigation service is frequently the most logical treatment option, it is not something that a rookie or inexperienced maintenance workers can accomplish. In layman's terms, fumigation is a dangerous procedure. It is a highly sophisticated therapy that should only be delivered by specialists who have been adequately trained and experienced. There are rules and legal criteria in practically every state that require the operator or administrator to be legally trained or qualified to handle the chemicals used in the fumigation process. Fumigation, on the other hand, is both effective and safe when done correctly.
Conclusion
Commercial fumigation is an essential process for businesses, warehouses and other related structures throughout the world. This treatment method meets FDA regulatory requirements and is available whenever you need a fast and effective solution for your property. Contact Us for an inspection and evaluation of the area.
If you want to know more about our services, do visit (https://skychemicalservices.pk/)